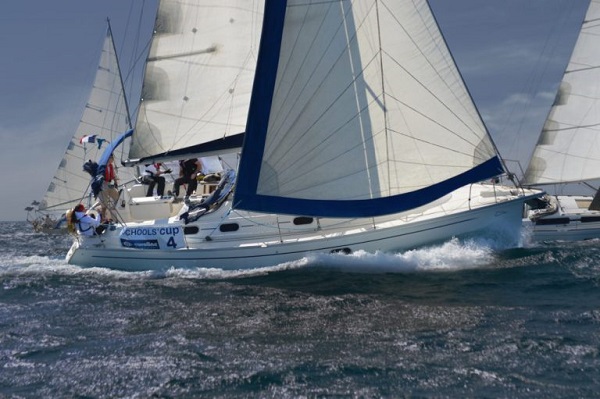 European Schools (sailing) Cup 2018;
Sailing Passion, a member club of the Luxembourg Sailing Federation, has announced that the European School's Cup 2019 in sailing will take place next year from 12 - 19 April 2019 in the Adriatic Sea, off Biograd na Moru in Croatia.
Due to Easter falling late in 2019, this should ensure a sunny week for the schools' sailing event.
The organisers, with the support of the Luxembourg Maritime Affairs, are chartering a flight from Luxair which will allow 186 people to travel - school teams, skippers and the organisers.
Sailing builds superb foundational abilities. The preparation, planning, teamwork, and execution of manoeuvring a sailboat are skills that last a lifetime. In the European Schools' Cup, teenagers aged 14-19 will face big decisions, work together, learn to sail, make repairs, and use onboard electronics to navigate their boats. There are dinghies to drive, swimming, cooking and sleeping onboard, meeting new friends, and a trophy ceremony/party! Most importantly, each participant will return home knowing they can achieve great accomplishments in their lives.
Each boat has two adults onboard, a skipper and co-skipper – the rest is up to the teens. Parents are continually amazed at how this regatta positively influences their adolescents.
Timetable:

Depart on Friday 12 April 2019 @ 18:15-20:00, Luxembourg - Zadar, Croatia
Return on Friday 19 April 2019 @ 2§:00 - 22:45, Zadar - Luxembourg
The 2018 edition of the European School's Cup was won by the European Schools team from Mamer, skippered by Valérie Retailliau
As a reminder:
- school teams from around the Grand Duchy are eligible to participate
- no need to have sailed before, your skipper is there to teach you all the basics
- all boats have a minimum of 4 cabins and 2 bathrooms
- WIFI on all boats
- dinghy on all boats
- bedsheets, blankets, pillows and pillow cases on all boats
- the week includes 2 dinners in restaurants
- the week includes all provisions (food and beverages)
- participants must be able to swim
Registrations will be on a first-come, first-served basis. For information, see https://sailingpassion.lu or https://bit.ly/2LD02uo
From 15 August 2018, further information will be posted online and registrations will then open.