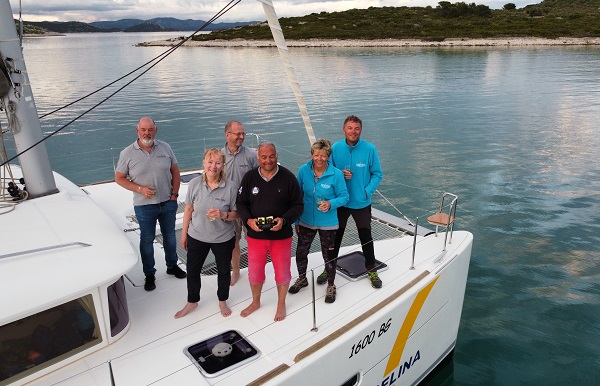 Siggy's Cup 2023; Credit: Sailing Passion
Luxembourg-based sailing club Sailing Passion asbl has announced the results of this year's European Schools' Cup and the Siggy's Cup.
Sixteen crews participated in the sixteenth edition of the Siggy's Cup, which took place in Croatia from 6 to 11 May 2023, with Luxinnovation ultimately crowned the winner. Hôpitaux Robert Schuman (crew 3) took home second prize, whilst the European Investment Bank (EIB; crew 2) secured third prize. First-time participants Trendhouse won the "Fairplay" trophy.
This year's Siggy's Cup departure was from Marina Pirovac, Croatia. On the morning of Saturday 6 May 2023 (day of arrival), the yachts checked in and the week's provisioning was delivered. On the morning of Sunday 7 May 2023, there was some free sailing followed by "friendly" races in the afternoon. Monday 8 May 2023 saw two races followed by dinner for participants at a restaurant on an island. Two more races took place on Tuesday 9 May 2023, followed by a special "reverse" race and the closing dinner on an island on Wednesday 10 May 2023.
The Siggy's Cup was born sixteen years ago on the initiative of a group of friends with a passion for sailing and the sea. They were united by the question of how to navigate when living/working in a land-locked country like Luxembourg, as well as the desire to escape and go sailing. As a result, crews now meet once a year in May at the helm of a sailboat, coming together with friends from various professional backgrounds.
One month earlier, from 8 to 14 April 2023, nineteen crews/sailing yachts took part in this year's European Schools' Cup, also held in Croatia. The first-place winners were Usain Boat, a crew from European School Luxembourg II (Mamer), with skipper Patrick Taminiau. Seaduction from Tikkurilan School, Finland (skipper: Alan Obrien) came in second place, whilst the Unsinkables, a mixed crew from the European School and the International School of Luxembourg (ISL) (skipper: Henning Dresel) finished in third place. About 150 students took part in this eleventh edition.
Project Manager and President of Sailing Passion asbl, Ariane Roquebert, explained to Chronicle.lu: "Our aim is to extend this European school sailing event to schools within Europe. So, this year, we had Finland who will definitely come back next year and we are working on other countries."
Among the participating schools were: European School Luxembourg I (Kirchberg); European School Luxembourg II (Mamer); ISL; Lënster Lycéee International School; Lycée Michel Lucius; Lycée Michel Rodange; Lycée Technique du Centre; Lycée de Garçons; Lycée des Arts et Métiers; Lycée Ermesinde Mersch; Lycée Vauban; Southlands International School; Ecole Privée Notre-Dame Sainte-Sophie; Tikkurilan School (Finland).
The dates of the twelfth edition of the European Schools' Cup have already been confirmed: 30 March to 5 April 2024.
(European Schools' Cup 2023; Credit: Sailing Passion)