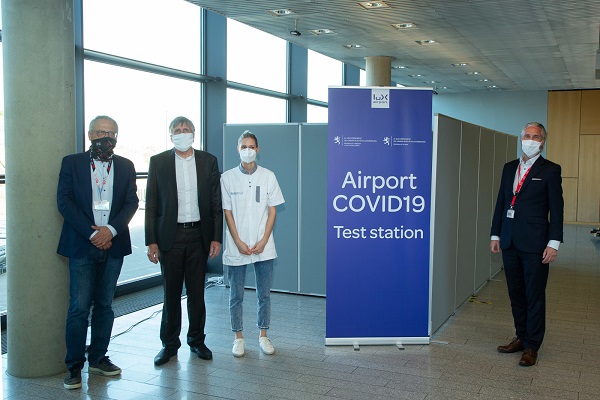 COVID-19 Pilot Testing Project at Luxembourg Airport; Credit: Vincent Flamion Photography
Luxembourg's Ministry of Mobility and Public Works, in collaboration with the Department of Health and lux-Airport, have launched a pilot testing project at Luxembourg airport on Friday 29 May 2020 as flights resume to take off and land at the passenger terminal.
The pilot project is aimed at testing passengers on flights landing at Luxembourg airport and is being undertaken as part of the resumption of passenger activities at the airport and in the context of the national screening strategy.
Anyone arriving in Luxembourg by air will receive a voucher valid for several days to be tested in a medical analysis laboratory of their choice. Alternatively, a test station that lux-Aiport has installed in the terminal, allowing passengers arriving from other airports to be tested directly on site. This is one of the many measures that lux-Airport has taken in connection with the reopening of passenger air transport.

The people tested will receive their results and, in the event of a positive result, the usual isolation procedure is to be applied, as well as tracing of contacts in Luxembourg. The authorities of the country of residence of the screened person will also be informed of a positive result.

The pilot project has an initial duration of one month, to assess the advisability of expanding testing to other "gateways" to the country.