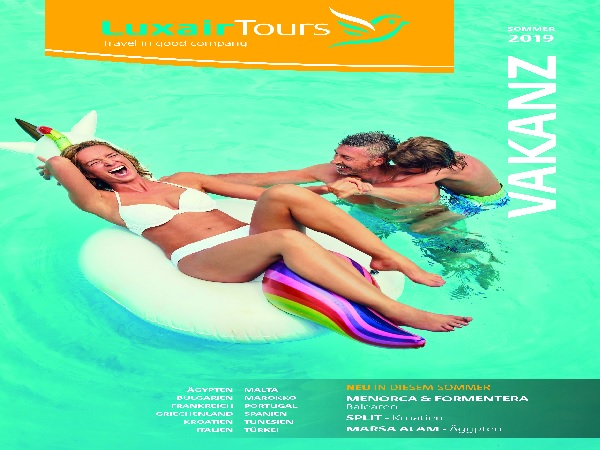 LuxairTours has launched its Summer Holidays 2019 brochure, featuring four new destinations.
LuxairTours has expanded its offer with an additional four destinations: Split, Menorca, Ibiza and Marsa Alam.

The addition of Split complements the existing LuxairTours to Brač, Dubrovnik and Zadar. At the gateway to Europe, Croatia, which is culturally close to the Mediterranean, has become a popular destination for tourists looking for a varied holiday. From this summer 2019, holiday-goers will have the chance to discover this new destination which offers something for the whole family, water sports enthusiasts and nature lovers alike. Flights to Split will run every Sunday and the flight duration is two hours 15 minutes.
From this summer, LuxairTours will also serve the island of Mallorca, the islands of Ibiza/Formentera and Menorca. Clients thus have the choice between Mallorca's architectural wealth and beaches, evenings spent on the trendy island of Ibiza or can mix rest with wild beauty on the islands of Formentera and Menorca. Flights will run Saturdays to Menorca, Tuesdays and Saturdays to Ibiza and every day to Mallorca. Flight time varies between two hours and two hours 25 minutes.
Also on the agenda for summer 2019 is Marsa Alam, a fascinating destination located south of Hurghada and which is the ideal place for lovers of authenticity and sun worshipers. With the sun shining endlessly all year round, beaches galore and the Red Sea, Marsa Alam is popular with people looking for quality hotels and an underwater world that remains intact. Flights will run every Thursday and last four hours 40 minutes.
Moreover, the summer 2019 brochure will introduce a selection of 11 Robinson Club hotels for a variety of destinations as well as increasing the frequency of flights to some destinations. This includes one additional weekly flight to Kos, Faro, Antalya, Xerez de la Frontera, Cagliari, Olbia and Ibiza.