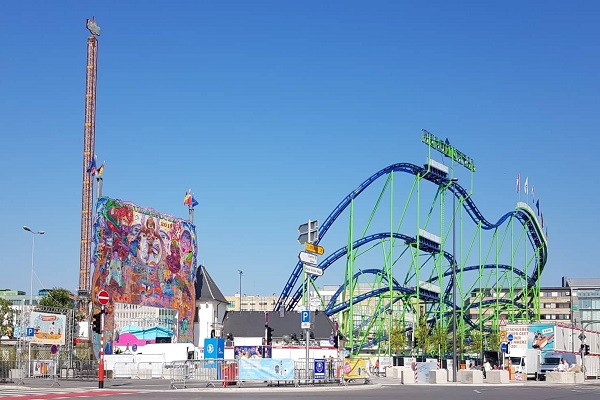 Schueberfouer 2019; Credit: Jazmin Campbell
August tends to be a quiet month in Luxembourg: we are about halfway through the school summer holidays, the Chamber of Deputies (Luxembourg's parliament) is in recess, various sectors (namely construction and civil engineering) are on collective summer leave and many residents appear to be either already away on holiday or preparing for an upcoming trip abroad.
Moreover, after a busy events period in the first half of this year (particularly after a quieter two years due to COVID-19), many business chambers, clubs and organisations are putting their activities on pause until September.
For those staying in Luxembourg this month, for work or personal reasons or simply a "staycation", despite the noticeable decline in social and professional events, there are still several options to explore, particularly in the field of culture:
- Mediaeval Festival in Vianden: The Mittelalterfest (mediaeval festival) in Vianden will come to a close this weekend. The biggest mediaeval festival in Luxembourg and the Greater Region, now in its 20th edition, this nine-day event is taking place against the backdrop of Vianden Castle in northern Luxembourg daily until Sunday 7 August 2022 inclusive. More than 100 participants will bring the castle to mediaeval life through various activities, from fire and combat shows to birds of prey demonstrations, as well as mediaeval music, juggling and a market with handicrafts and various delicacies. The festival is taking place on Saturday 6 and Sunday 7 August from 10:00 to 19:00 (last admission at 18:00). Entry: €11 for adults; €7 for students; €3 for children aged six to twelve; €25 for families with two adults and two children; €9 per person for groups of at least fifteen people.
- Clervaux Castle Music Festival: The very first edition of the Clervaux Castle Summer Music Festival, a free open-air festival set against the backdrop of the historic castle in Clervaux in northern Luxembourg, is taking place every Friday and Saturday until 20 August 2022 (inclusive). As well as musical acts, visitors to the festival can enjoy open-air film screenings and local and regional drinks and snacks. Upcoming acts / shows: the Veda Bartinger Quartet will put on a jazz performance on Saturday 6 August; an open-air film screening of West Side Story will take place on Friday 12 August; Screaming Fields Festival newcomer artist Deep Dive Culture will perform on Saturday 13 August; a concert by local eight-piece brass band Hunneg-Strëpp is scheduled for Friday 19 August; the festival will conclude on Saturday 20 August with a concert by Luxembourg-based indie surf band Sun Smash Palace. The lounge and bar area is open from 19:00, with concerts and film screenings starting at 21:00.
- Art in the Grund (Konscht am Gronn): This open-air art exhibition will return to in Luxembourg-Grund (on and around the bridge on Rue Münster) on Sunday 7 August 2022, from 10:00 to 18:00. Visitors will have the opportunity to discover and acquire a range of original artworks, from drawings and photographs to sculptures and ceramics, by more than 20 artists from Luxembourg and abroad. Local musician Carlo Flammang will provide musical entertainment and drinks and snacks will be available on this occasion. This event forms part of the City of Luxembourg's (Ville de Luxembourg – VdL) "Summer in the City" programme, which runs until Monday 12 September 2022.
- Naturparkfest: Families and children are particularly welcome at the Nature Park Our's Naturparkfest (nature park festival), which is taking place (after a two-year COVID-19-related break) at Parc Hosingen (Centre écologique) on Sunday 7 August 2022, from 11:00 to 18:00. This discovery day will be centred around 29 workshops about the nature park and its activities, as well as science shows and an interactive science quiz, horse-drawn carriage rides, a travelling exhibition on insects, a bouncy castle and a water orchestra, among other activities. The festival is open to the public free of charge.
- Antique Market: This weekly antique market will return to Place d'Armes in Luxembourg-Ville, as part of the VdL Summer in the City programme, on Saturdays 13 and 27 August 2022, from 08:00 to 18:00. Visitors can expect to find various collector's items and bargains.
- ACL MotoClassic: Vintage car lovers may be interested in participating in the second edition of the Automobile Club of Luxembourg's (ACL) MotoClassic classic motorcycles event on Assumption Day (Monday 15 August 2022). Departure is scheduled for 10:00 at the ACL car park in Bertrange. Those interested in taking part should register online by Tuesday 9 August 2022 (participation fee: €12 per person) at: https://www.acl.lu/en-us/agenda/acl-motoclassic
- Schueberfouer: August may be a relatively quiet month, but it also marks the return of Luxembourg's largest funfair: after a two-year pandemic-related hiatus, the popular Schueberfouer is back this year. A total of 223 stands and attractions, including the world's largest travelling ghost train, Daemonium, will await visitors on site in Glacis car park in Luxembourg-Limpertsberg from Friday 19 August to Wednesday 7 September 2022.
- Toto concert: Tickets are still available (prices starting at €56) for the upcoming Toto concert at the Rockhal in Esch-Belval. The critically acclaimed rock band from Los Angeles, best known for hits like "Africa", "Rosanna" and "Hold the Line", will perform at the Luxembourg venue on Tuesday 23 August 2022 at 20:00 (doors open at 19:00), as part of their 2022 World Tour. Tickets: https://rockhal.lu/shows/toto/
- Congés Annulés: This year's Congés Annulés festival at Rotondes in Luxembourg-Bonnevoie, which kicked off at the end of July, is offering visitors a range of concerts, DJ sets, film screenings and other entertainment until Wednesday 24 August 2022 inclusive. Whilst festival passes are sold out, tickets are still available for various upcoming acts, including the closing night concert (24 August) by AUA (composed of German electro kraut pop duo Fabian Bremer and Henrik Eichmann) and British dance-punk project PVA (composed of London musicians Ella Harris, Josh Baxter and Louis Satchell). More information and tickets: https://www.rotondes.lu/en/agenda/conges-annules-closing-night
- Grand Ducal Palace visit: Daily guided tours of the Grand Ducal Palace in Luxembourg-Ville are ongoing until Wednesday 31 August 2022. These visits, organised by the Luxembourg City Tourist Office (LCTO), offer visitors a behind-the-scenes look at the official residence of His Royal Highness the Grand Duke of Luxembourg. Tours are available in Luxembourgish, French, English and German and cost €15 for adults and €7.50 for children aged four to twelve; children under the age of four go free. Tickets: https://www.luxembourg-city.com/en/place/monument/grand-ducal-palace
- Theaterplage: This urban beach in Place de Théâtre in Luxembourg-Ville remains open to the public until Sunday 11 September 2022. Visitors of all ages to the capital can relax and enjoy the sun in a 350 m2 sandy area equipped with deckchairs and parasols, various plants and colourful decorations. Catering options are also available.
Whilst this list is not exhaustive, it is intended to present a selection of the various events and activities on offer across the Grand Duchy during this seemingly quieter summer month.