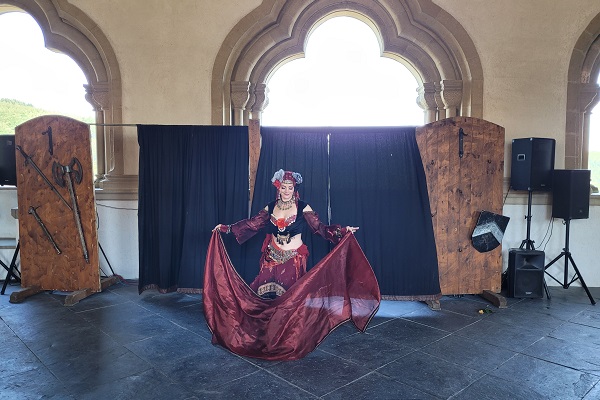 Credit: Jazmin Campbell / Chronicle.lu
There were long queues to access Vianden Castle on Saturday 6 August 2022 as visitors of all ages and nationalities showed up for the penultimate day of this year's Mittelalterfest (mediaeval festival).
Couples, friends, families with children and even dogs explored the grounds of Luxembourg's best-known castle, which has gone back to its mediaeval roots for this nine-day festival – the largest mediaeval festival in Luxembourg and the Greater Region.
More than 100 entertainers, trades- and craftspeople from across Europe have donned their best mediaeval garments and taken over the castle grounds for this 20th edition, offering visitors a variety of handicrafts and delicacies at the mediaeval market, shows and dances in the gallery and food and drinks in the tavern, among other activities.
The 20th mediaeval festival in Vianden will come to a close on Sunday 7 August 2022; the event is open to the public from 10:00 to 19:00 (last admission at 18:00). Entry costs €11 for adults, €7 for students (with a valid student card) under 25 and €3 for children aged six to twelve. Families of two adults and two children can purchase a ticket for €25, whilst groups of at least fifteen people pay €9 per person. A free shuttle bus is operational between 12:00 and 19:00.