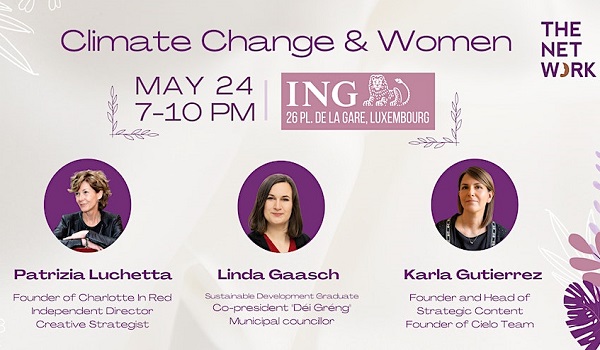 Luxembourg-based international professional women's association The NETWORK has announced that it is organising an event called "Climate Change & Women" on Wednesday 24 May 2023 at ING in Luxembourg-Gare, from 19:00 to 22:00.
It has been found that climate crisis is not "gender neutral", with women and girls experiencing the greatest impacts of climate change. This event will thus explore the impact of climate change on women and girls. The speakers will address questions such as: How does the climate crisis affect access to essential resources like food, healthcare, housing and education? How can we limit the impact of climate change and ensure a better future where women and girls have better outcomes in natural disasters and an energy crisis?
The speakers at this event are: Patrizia Luchetta, co-founder of Charlotte in Red and an independent director and creative strategist with more than 20 years' experience across industries and economic sectors; Linda Gaasch, co-president of the Greens (Déi Gréng) and municipal councillor for the City of Luxembourg, with a Master in Science for Sustainable Development; Karla Gutierrez, founder and head of brand and content marketing at Cielo team, who has worked for almost 20 years in advertising and marketing, always in an international environment.
This event is free for members of The NETWORK or €20 for non-members. Registration is mandatory via Eventbrite.