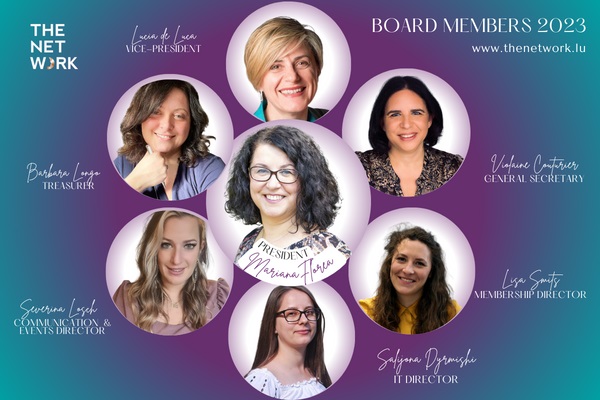 Credit: The NETWORK
On Wednesday 29 March 2023, The NETWORK, Luxembourg's oldest international professional business women's association promoting networking and personal and professional development, elected its new Board at its annual general meeting (AGM).
Mariana Florea, who took over as President last year, will remain at the helm of The NETWORK, supported by several returning Board members and a few fresh faces.
The new Board for 2023-2024 is composed as follows: Mariana Florea, President (returning); Lucia de Luca, Vice President (new); Violaine Couturier, General Secretary (returning); Barbara Longo, Treasurer (new); Lisa Smits, Membership (returning); Severina Losch, Communications & Events (new); Salijona Syrmishi, IT Coordination (returning).
The outgoing (2022-2023) Board members are: Christine Impens, Vice President; Hanne Pinholt, Vice President; Muriel-Hélène Buchet, General Secretary; Xilda Suarez, Treasurer; LaTasha Baker, Communications; Danijela Hebat, Events; Christine Hansen, Events; Soelene Justus, Partnerships.
The AGM was also an occasion for The NETWORK to approve its 2022 annual accounts and to present the President's and various teams' reports.
"This was the first year of my presidency and it felt like a very intense one. The NETWORK continued the beautiful path designed by the predecessor dedicated ladies [who] we should always appreciate," stated Mariana Florea. "I would like to thank the outgoing Board and their team members for their support to make this year incredible."
She particularly highlighted The NETWORK's charity gala dinner, which took place in March 2022 and resulted in a donation of €9,000, split between three local women's charities (Femmes en Détresse, Think Pink and Dress for Success). Another charitable highlight was the wine tasting fundraiser in September 2022, which raised additional funds for Femmes en Détresse, The NETWORK's designated charity for 2022.
Mariana Florea concluded by saying that she was "looking forward to working with the new Board".