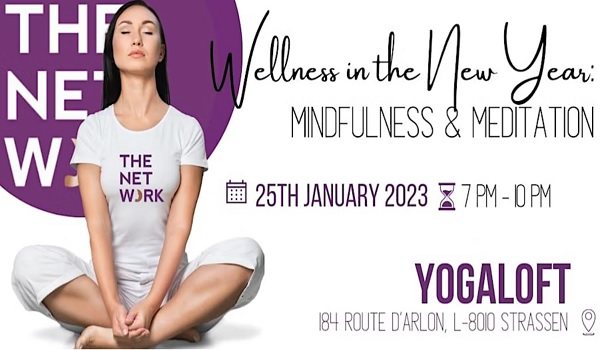 Credit: The NETWORK
Luxembourg-based international professional women's association The NETWORK has announced that it is kicking off the new year with an event dedicated to wellness at Yogaloft. Luxembourg in Strassen (184 Route d'Arlon, L-8010) on Wednesday 25 January 2023 from 19:00.
The NETWORK's upcoming January event will focus on the benefits of meditation and mindfulness. How can being mindful improve your relationships, advance your career and promote your overall wellbeing?
The evening will start with Nora Schlesser, a Yoga Nidra teacher, a life coach for women over 40 and a creative dance educator, teaching attendees how to relax after a stressful day. This will be followed by more relaxation and yoga with Amelie Kuylenstierna, a yoga teacher and co-owner of Yogaloft. Luxembourg. The evening will conclude with Laura Eyer, who specialises in stress management and wellness, introducing those present to mindfulness and how to practise it.
This is an interactive event, in which attendees are invited to actively participate, so be sure to wear comfortable yoga style clothing.
Healthy drinks and snacks will be served during the event, which will end with a networking session.
This event is free for The NETWORK's members (become a member by Wednesday 18 January 2023 to join this and The NETWORK's other regular events free of charge). For non-members, the cost is €20. Further details, including registration, are available on Eventbrite.