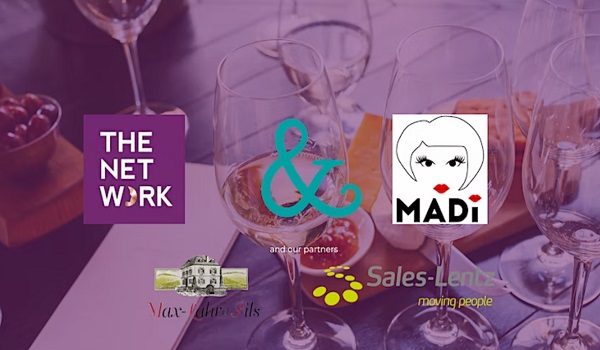 The NETWORK, Luxembourg's oldest international professional business women's association, will resume its monthly events after the summer break with a fundraising wine tasting event at Max-Lahr et Fils Vineyard in Wormeldange on Wednesday 21 September 2022 at 19:00.
Organised in partnership with Madi.lu and Max-Lahr et Fils Vineyard, this wine tasting event will allow guests to experience the best offerings from this traditional family-run vineyard, served with complimentary snacks against the backdrop of one of Luxembourg's most picturesque villages. As an added bonus, this is the winery of the family of this year's freshly crowned Riesling Queen, Céline Max.
Guests will have a chance to taste and purchase the best varieties of local wines from Crémant to Riesling. Orders above a specific price point are eligible for home delivery. All purchases during the event will benefit The NETWORK's chosen charity, Femmes en Détresse asbl, with 50% of the profits donated directly to the organisation. The goal is to raise €1,000 for this local women's charity.
Sales Lentz is the event transportation partner and is offering free transportation to and from the vineyard departing from Glacis in Luxembourg-Limpertsberg. The bus will depart promptly at 19:00.
Only 40 spots are available in total for this event, which is free of charge for The NETWORK members. Tickets for non-members cost €40 (includes a complimentary bottle of wine). Tickets are available on the dedicated Eventbrite page. Non-members who attended The NETWORK's summer drinks event in June 2022 will receive a 50% discount for this event. Moreover, anyone who becomes a member of THE NETWORK by Wednesday 14 September 2022 can attend this and all other events free for one year. Further details on membership: https://thenetwork.lu/membership/.
The NETWORK is a community of women helping women which strives to support women's causes throughout Luxembourg. One of the association's four pillars is philanthropy and every year, it selects a chosen charity to support. This year, The NETWORK will continue supporting Femmes en Détresse asbl.