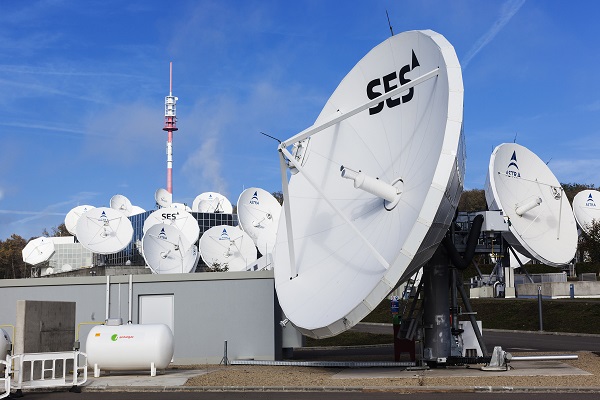 Credit: SES
Luxembourg satellite company SES S.A. today announced its financial results for the year ended 31 December 2020.
At €1.876 million, revenue fell 5.44% over one year. Adjusted net profit fell from €395 million to €208 million this year, whilst net losses reached €86 million (compared to a net profit of €296 million in 2019).
That being said, 2020 marked the company's third successive year delivering EBITDA outlook despite the challenging COVID-19 environment; SES delivered an adjusted EBITDA of €1,152 million.
SES also continued to reduce its debt in 2020. Adjusted net debt at the end of the year fell by €505 million over one year, to €3.42 billion.
Steve Collar, CEO of SES, commented: "2020 was a strong year for SES. The combination of considerable commercial execution and laser focus on controlling discretionary spending ensured that, despite the COVID-19 environment, we protected the bottom line with adjusted EBITDA in line with our pre-COVID-19 outlook and at the top end of our mid-year outlook. We successfully executed our Simplify & Amplify programme delivering OpEx savings of €50 million from 2022 onwards, while net debt and leverage is at a five-year low on the back of strong cash generation".
He continued: "2020 was a landmark year for our US C-band initiative, starting with the FCC's final Report and Order and ending with the record-breaking spectrum auction, crystallising SES' opportunity to earn $4 billion in accelerated relocation payments. The clearing is on track and we expect to meet the December 2021 and December 2023 deadlines".
Looking forward, over 80% of the 2021 group revenue outlook of between €1,760 million and €1,820 million is already under contract. The adjusted EBITDA outlook is set for between €1,060 million and €1,100 million.
Steve Collar concluded: "2021 represents a year of unique and significant opportunities for SES. It will see us realise the first $1 billion from C-band repurposing and execute on a strong pipeline of commercial opportunities to further grow, driven by the increasing backlog of now $740 million for SES-17 and O3b mPOWER ahead of launch in the second half of 2021. These assets form the bedrock of our unique, multi-orbit value proposition to serve the strong and expanding demand for data across all our segments and will drive sustained, profitable growth for SES in the years ahead".