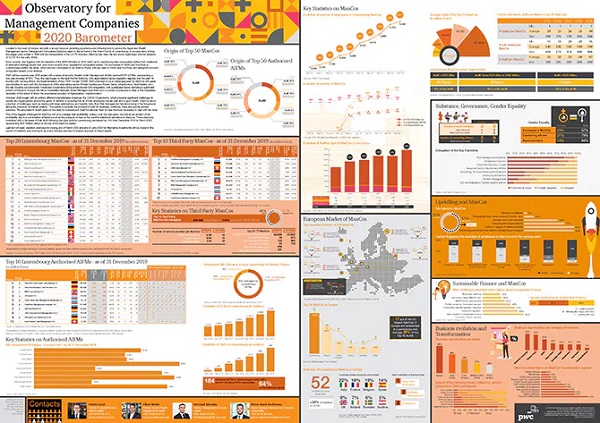 PwC Luxembourg has announced the publication of their patented 2020 barometer on management companies (ManCo) which showcases the growth of asset management in Luxembourg.
The results continue to highlight the alternative market as the leading force for growth across Luxembourg management companies (UCITS and/or authorised AIFMs) demonstrating the attractiveness of the Luxembourg alternative industry with dedicated products such as the Reserved Alternative Investment Fund (RAIF) and special limited partnerships (ScSP).
The latest results display a positive outlook for authorised Alternative Investment Fund Manager (AIFM), Undertakings for Collective Investments in Transferable Securities (UCITS) ManCos and Super ManCos based in the Grand Duchy.
They key highlights include:
Assets under management (AuM) managed by Luxembourg management companies (evolution of more than 17% (3,398 in 2018 to 3,991 in 2019)
Strong dynamism of the alternative investment fund manager (AIFM), all new entrants this year have AIFM licences: 15 AIFMs, 2 Super ManCos
Huge success of RAIF: 64% of management companies in Lux manage at least one RAIF
17 out of the 50 largest management companies in Europe are established in Luxembourg and manage 39% of the Top 50 AuMs.
Bertrand Jaboulay, Partner, Management Company Observatory Leader at PwC Luxembourg, commented: "2020 will be a special year. 2019 ended with a series of records, Assets Under Management reached €4.718 billion, representing a one year increase of 16%. The year began on the right foot for management companies who assimilated a dense regulatory agenda over the past 18 months with, among others, the implementation of the CSSF Circular 18/698. Nevertheless, the COVID crisis has created challenges that management companies will have to respond to".
Indeed, 2020 saw the rise of the COVID-19 pandemic, which presents significant challenges to people and organisations around the globe. In addition to ensuring that all of their employees remain safe and in good health, ManCos are faced with a number of challenges, including large redemptions and liquidity risks, their risk management functions being in the foreground facing the explosion of market volatility.
Oliver Weber, Tax Partner, Asset and Wealth Management Leader at PwC Luxembourg, added: "One of the biggest challenges for ManCos will be to manage their profitability. Indeed, over the past years, we noticed an erosion of the profitability due to a combination of factors such as the pressure on fees or the need for additional substance in ManCos. Those elements, combined with a decrease of their AuM following the crisis (AuM in Luxembourg decreased by 12% from December 2019 to March 2020, representing €569 billion) will be on the top of the ManCos diaries".
The full 2020 barometer is available on the PwC Luxembourg's website at www.pwc.lu/en/asset-management/management-company.html.