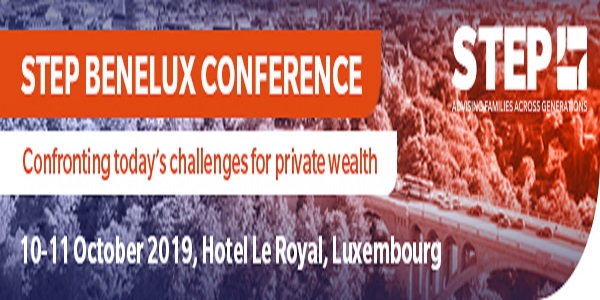 STEP BeNeLux, in partnership with the British Chamber of Commerce (BCC), has announced that it be holding its annual two-day conference on 10 and 11 October 2019 at Hotel Le Royal in Luxembourg-ville.
Following the highly successful inaugural STEP Benelux Conference in 2017, this year's conference will bring guests up to speed on the latest events in wealth management and advise and explore ways to navigate the sometimes precarious environment in which we now live and work.
A cross-section of international expert speakers and panellists from politics, international relations, the judiciary, financial services and the legal and tax advisory professions will come together to discuss the theme "confronting today's challenges for private wealth". Keynote Speakers include Claude Marx, TEP, CSSF, Luxembourg, and His Excellency John Marshall, British Ambassador to Luxembourg, as well as more than 25 other speakers from Luxembourg, Belgium, France, Germany, Hungary, Italy, the Netherlands, the United Arab Emirates, the UK and the USA.
The cost of attending this conference is €835 for STEP members or €950 for non-members. To register for the event, see https://www.step.org/bookings-benelux2019.
For further information, including a full list of speakers and the full event programme, visit http://www.cvent.com/events/step-benelux-conference-2019/event-summary-17b0d9ce5caa486986055b8c91637b1e.aspx.