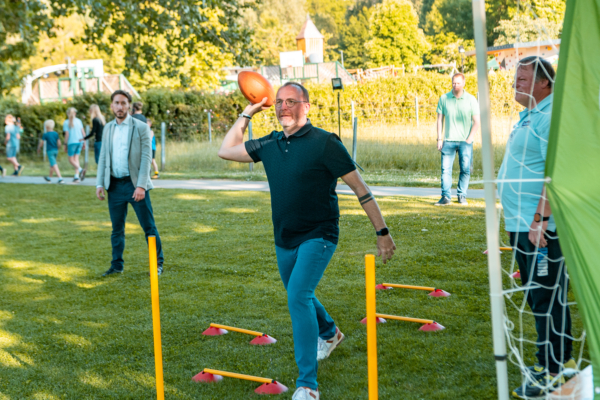 (centre) Georges Engel, Minister of Sports; Credit: SNJ / Oli Kerschen
Luxembourg's Ministry of Sports and the National Youth Service (Service national de la jeunesse - SNJ) announced that on Saturday 11 June 2022 over 15,000 individuals took part in the thirteenth edition of the "Nuit du Sport", a new record and a 66% increase compared to the pre-pandemic levels in 2019 (9,000 participants)
After a cancelled edition in 2020, followed by a limited edition due to the health crisis in 2021 (3,500 participants), this year saw 43 municipalities and organisers follow the national call to join the initiative and offer an evening of sports and physical activities.
Discovering new sports disciplines and finding a taste for physical activity and movement is the objective of the initiative launched and coordinated since 2009 by the SNJ and the Ministry of Sports as part of the national action plan "Gesond iessen, Méi beweegen".
In all, some 150 activities and workshops, from AirTramp to water polo, including Beach Soccer, oriental dance and Muay Thai, were offered by youth centres, associations, sports clubs or municipal services. Beyond the classic sports disciplines, the diverse programme included in particular well-visited shows, events and workshops with renowned artists and champions, such as Viki Gómez, Marie Schreiber and Sven Fielitz.
The activities offered during the "Nuit du Sport" are distinguished above all by their originality, their intergenerational and inclusive character. The participants - citizens from all walks of life, regardless of their social status, nationality, age and physical predisposition - were thus able to (re)discover a taste for physical activity and a healthy lifestyle.
The organisers and participants testified to the great success of the event: "We see that people want to leave their homes and have new experiences, especially in sport"; "I really liked the Nuit du sport and it's something unique in Luxembourg"; "This experience encourages us to enroll in a capoeira club"; "the opportunity to discover a sport as a family"; "I had the opportunity to try so many different sports!".
The thirteenth edition took place in the following municipalities: Beckerich, Bettembourg, Betzdorf, Bissen, Clervaux, Colmar-Berg, Contern, Differdange, Echternach, Esch-sur-Alzette, Esch-sur-Sûre, Feulen, Fischbach, Frisange, Grevenmacher, Grousbous, Helperknapp, Hesperange, Junglinster, Kayl, Koerich, Kopstal, Larochette, Leudelange, Lorentzweiler, Luxembourg, Mamer, Manternach, Mersch, Mondercange, Mondorf-les-Bains, Niederanven, Nommern, Pétange, Préizerdaul, Roeser, Rumelange, Sandweiler, Schengen, Schieren, Schuttrange, Wahl and Wiltz.
Detailed information on all the activities, photos of the event and the participating municipalities is available online via: www.nuitdusport.lu.