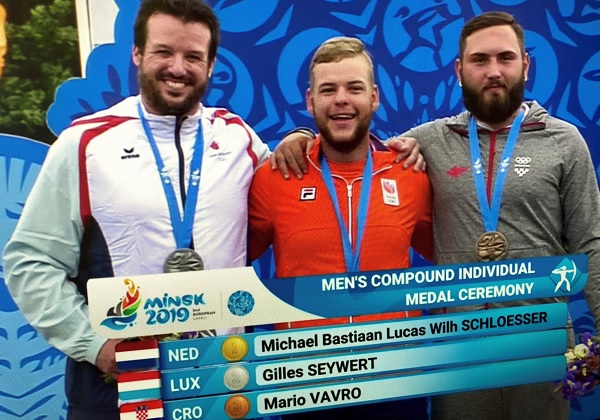 L-R: Gilles Seywert; Michael Bastiaan Lucas Wilh Schloesser; Mario Vavro; Credit: Ministry of Sport
Gilles Seywert yesterday won the first Luxembourg silver medal in the history of the European Games, held this year in Minsk, Belarus.
A policeman by profession, Gilles Seywert came second only to Dutch competitor Mike Schloesser in the inaugural compound men's title at the Minsk 2019 European Games.
Gilles Seywert, who previously placed 5th at the 2018 European Championships, began practising archery in 1995 before making his international debut one year later. He went on to represent Luxembourg at the World Archery Championships in 2005, 2007, 2009 and 2011.
Luxembourg Minister of Sports Dan Kersch expressed his congratulations to the silver medalist: "You are now the only Luxembourg sportsman to have won a silver medal at the European Games [...]. Beaten by a small point in the final by the Dutch giant, Mike Schloesser, you made the whole country vibrate to the rhythm of your arrows". He went on to wish Gilles Seywert further success in his "already exceptional career".