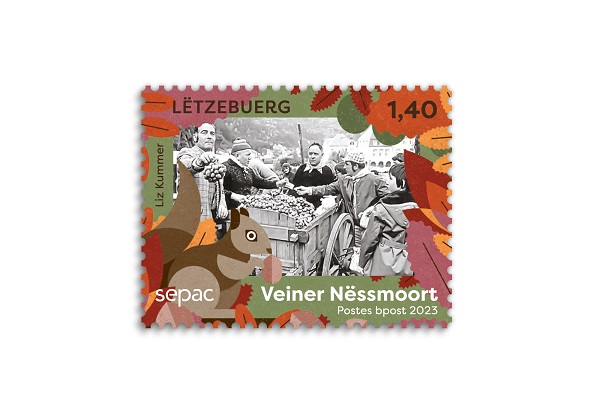 Vianden nut market special stamp; Credit: POST Luxembourg
POST Luxembourg has issued three new special stamps, which will be available to purchase from Tuesday 12 September 2023.
These special stamps commemorate the 100th birthday of Luxembourg composer and conductor Jean-Pierre Kemmer (1923-1991), the "Veiner Nëssmoort" (Vianden nut market) and this year's Stamp Day (Journée du Timbre) in Echternach, respectively. The latter event will take place during the last weekend in September.
Dedicated exclusively to this new stamp issue, the September 2023 edition of the "PhilatéLux" publication lists the different stamps and provides information on their respective characteristics and designs.
The new special stamps will be available from Tuesday on the POST Philately online store: www.postphilately.lu, at the stamp counter in Cloche d'Or (13 Rue Robert Stumper and in post offices across the Grand Duchy.