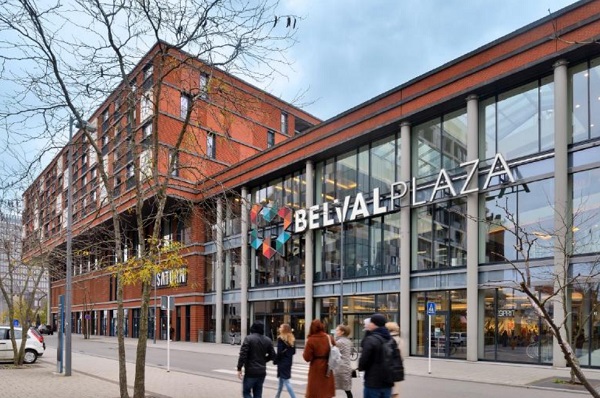 Credit: Firce Capital
Firce Capital, an asset management and real estate investment company with its headquarters in Luxembourg, recently announced strong growth in footfall at the Belval Plaza shopping centre in Esch-Belval.
In the first quarter of 2023, Belval Plaza attracted over 20% more visitors than during the same period in 2022. At the end of 2022, the shopping centre had regained pre-health crisis attendance numbers, with nearly seven million visitors. In 2023, according to Firce Capital, this figure is expected to increase to eight million visitors.
"We are delighted with the excellent results posted by Belval Plaza, which has outperformed over the past few months," said Christophe Fournage, President of Firce Capital. "We have signed 28 leases or renewals since the acquisition of Belval Plaza in February 2020. This figure testifies to the attractiveness of the centre and more generally to the dynamism of the retail sector in Luxembourg. This asset class has established itself as the most resilient post-COVID."
Firce Capital also announced strengthened partnerships between Belval Plaza and international brands H&M and JBC. Present since the opening of the shopping centre in 2008, H&M will double in size this year to 2,850 m2. The Swedish ready-to-wear clothing company will also expand its offer within Belval Plaza with the arrival of an H&M Home and a dedicated space for teenagers. Firce Capital has also renewed its contract with Belgian ready-to-wear brand JBC for a total of fifteen years.
2023 will also see the arrival of a range of new lifestyle and shoe brands: Foot Locker (to open in July 2023), Mano and Tiffosi.
Moreover, a new Inspire wellness centre will soon open its doors in Belval Plaza. This new care and relaxation centre will also offer a tea room and a range of organic cosmetics.
"We are very happy to welcome these new brands which will reinforce the attractiveness of Belval Plaza. These last few months have been very positive for Belval Plaza with increased turnover for all of our tenants, even exceeding the results before COVID," stated Thierry Debourse, Director of Belval Plaza. "The immediate environment of Belval Plaza continues to be a vector for additional growth, with its direct access to the station, its 1,200 free parking spaces and its location in a rapidly developing district [...]. Firce Capital continues to energise Belval Plaza thanks to the continuous arrival of new brands, redesigned layouts and the opening of one of the first food halls in Luxembourg, in spring 2024."
A 409 m² Hello Kids daycare centre will also open its doors to the public in the first half of 2023. It can occasionally take care of young children, aged between three and twelve, whilst their parents shop or go to the cinema.