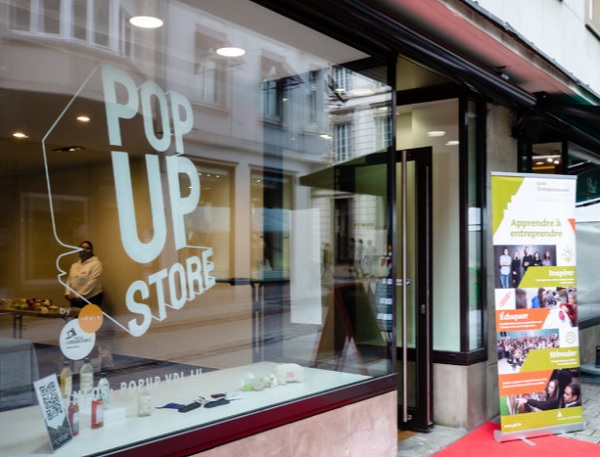 As part of its "pop-up stores" project, the City of Luxembourg is launching a new call for applications for the short-term rental of commercial premises located in the city centre and in the Gare district.
Throughout the year, interested creators, artists, merchants or start-ups can submit their application via the form available on the City of Luxembourg's website (only complete applications with form and description of the project will be taken into consideration). Among the selection criteria are the availability of candidates as well as the originality and quality of the concepts proposed. Proposals in the field of clothing, accessories and jewellery, household equipment, services and leisure, care and beauty, art, fashion and photography and even packaged dry food are authorised.
The rental period is minimum one month and maximum six months; an extension of up to three months can be possible depending on the availability of the venue. The amount of the monthly rent ranges between €650 and €2,250 and varies according to the specific situation of the entrepreneur or trader. A general flat rate for charges is added to the rent.
The "pop-up stores" project of the City of Luxembourg
By providing short-term rental of commercial space, the City of Luxembourg offers creators, entrepreneurs or start-ups the opportunity to test a new product, service or concept in direct contact with their customers. Thus, the concept of "pop-up stores" serves as a springboard for tenants who can benefit from a first experience in a physical store before embarking on a definitive business. In addition, pop-up stores contribute to the creation of a rich commercial offer and to attract a diversified public in the city centre.
Owners of temporarily unoccupied commercial space wishing to participate can contact the Economic and Commercial Development Unit of the City of Luxembourg (tel: 4796-5000 (Mon-Fri from 09:00 to 12:00 and from 14:00 to 17:00) / email: dec@vdl.lu).
List of City pop-up stores and current tenants:
• Gaiame, 38 rue Philippe II, until 28 April 2023
• Artcodeua, 40 rue Philippe II, until 04 July 2023
• Lux Medina 25 rue des Capucins, until 02 May 2023
• Astartelux Jewelry, 26 rue des Capucins, until 05 July 2023
• Bonne Nouvelle, Charly's Gare - 16a, avenue Emile Reuter, until 04 June 2023
• Tipp Topp Art Studio, 3 rue Origer, until 17 April 2023
• Made by Ghigi, 43 Grand-Rue, until 30 April 2023

More information as well as the technical details of the different premises on https://popup.vdl.lu.