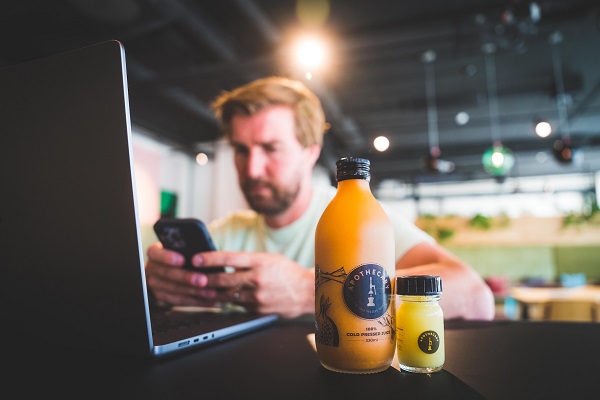 Apothecary, Luxembourg's specialist for healthy vitamin juices, is breaking new ground: new market share in Luxembourg and the brand's launch abroad are to be achieved through expanding existing partnerships and the participation of a new investor by the end of February.
The company, Apothecary – The Cold Pressed Juicery, founded by Jerry Wagner, stands for high-quality and healthy juices, made with vitamin-rich fruits and vegetables. The range includes creations such as "Golden Heal", "Gracious Green", "Endless Summer" and "Love Potion", as well as refined and energising fruit and vegetable bowls.
Since its founding in 2019, the company has relied on an environmentally-friendly and locally-oriented business model: The fruit and vegetable peels are entirely exploited during the production of the juices, and additives are completely avoided, while preferably cooperating with local and regional actors. The juice bottles are made purely of glass and are reused after each use. Apothecary is also known for its bottle tags, made with wildflower seeds that can be planted at home.
Developing new market shares and building an international franchise system.
In only four years, Apothecary has evolved into a brand that is popular amongst friends of healthy vitamin juices. Jerry Wagner feels as if now is the perfect time to develop new market shares in Luxembourg and, in the long run, to expand Apothecary products on the international market through a franchising system.
Apothecary remains a Luxembourgish brand
"Apothecary will remain a "Made in Luxembourg" brand", said Jerry Wagner. "A domestic stakeholder, who has known Apothecary for a long time, will join the board and will bring in new ideas to continuously develop the brand," specified the company founder. "As managing director, I will work closely with the new partner in the implementation of the market strategies that we have developed together, which will open up new horizons for Apothecary".
Apothecary products are sold at the company's headquarters in the Lifestyle Centre Concorde, in 30 Fischer stores throughout Luxembourg, and also at Sodexo in the European Investment Bank (EIB) and the Centre Hospitalier du Nord (CHdN). Orders can be placed through the online store at www.apothecary.lu. Deliveries are free of charge.