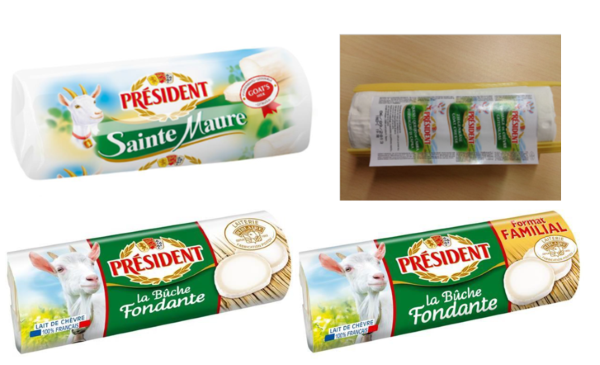 On Monday 12 September 2022, Luxembourg's Government Commission for Quality, Fraud and Food Safety issued a product recall of "Sainte Maure", goat cheese (Fromage de chèvre) and "La Bûche Fondante" from the President brand due to the concerns related to the possible presence of metallic-type foreign bodies.
If a foreign body is ingested, a risk of suffocation or internal injuries cannot be excluded.
The products in question are:
Sainte Maure Président (200g).

EAN Code: 3228020114225
dates of minimum durability (MDD): 06/10/2022, 17/10/2022 and 20/10/2022.
batch numbers: 227AD0548, 227AD0540, 234EC0548, 234EC0532, 241AD0832 and 241AD0548.
Fromage de chèvre (1kg)

EAN Code: 3482010000527
date of minimum durability (MDD): 25/10/2022.
batch number: 238ACN16.
La Bûche Fondante

unit size and EAN Code: 180g, 3228021170053; 250g, 3228023080015; 380g, 3228023180036; 250g + 20% offer, 3228021190150
date of minimum durability (MDD): from 24/09/2022 to 10/10/2022.
The Sainte Maure product is sold in Luxembourg by Alima; Cactus; Kora; Delhaize; Match; Smatch; Pallcenter; Grocery Food 2Go (Bereldange); Grocery Am Duerf (Schrondweiler); Grocery Billa - Bonissim sàrl (Wormeldange); Grocery Massen (Wemperhardt), the goat cheese product by Cactus and La Bûche Fondante by Auchan. Sales of these products by other operators cannot be excluded.