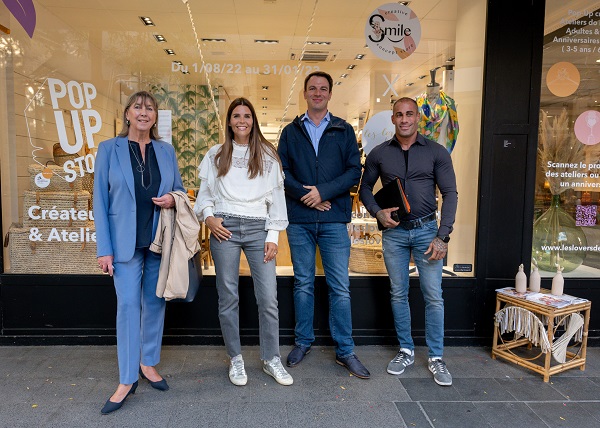 Inauguration of the pop-up shop SMILE, in the presence of VdL Mayor Lydie Polfer (far left); Credit: Ville de Luxembourg
On Thursday 8 September 2022, Lydie Polfer, Mayor of the City of Luxembourg (Ville de Luxembourg - VdL), and Serge Wilmes, first alderman, officially opened two new pop-up shops in Luxembourg-Ville.
These new openings now bring the number of pop-up shops managed by the City of Luxembourg to six.
SMILE, located at 19-25 Rue des Capucins, is a concept shop combining a boutique of French designers and brands and a creative workshop. Customers will discover fashion items and accessories for men, women and children, as well as bohemian-style interior decoration objects from the Les Lovers brand. A do-it-yourself workshop space also hosts various workshops for adults and children. More information is available on Instagram: @conceptstoresmile.
Banjjak Jewelry, located at 40 Rue Philippe II, is a boutique specialising in jewellery made exclusively in Korea. Inspired by K-pop, Korean fashion and Korean culture in the broadest sense, the founder embarked on the Banjjak adventure to share her passion for unique, elegant and quality pieces. Customers will find earrings, necklaces, rings and bracelets as well as various accessories including small bags, hats and hair accessories, all made in South Korea. More information is available on the website: https://www.banjjak-jewelry.com/.
Through the "pop-up stores" project, the City of Luxembourg aims to promote entrepreneurship and contribute to the creation of a diversified commercial offer in the capital while allowing creators, traders or startups to test their product, service or concept and to be in direct contact with their customers.
Current pop-up shops and tenants:
• Odysay (38 Rue Philippe II), open until 12 September 2022
• Banjjak Jewelry (40 Rue Philippe II), open until 30 September 2022
• Bonne Nouvelle (Charly's Gare - 16a Avenue Emile Reuter), open until 12 December 2022
• Romantico Romantico (26 Rue des Capucins), open until 31 December 2022
• Smile (19-25 Rue des Capucins), open until 31 January 2023
• Tipp Topp Art Studio (3 Rue Origer), open until 23 February 2023