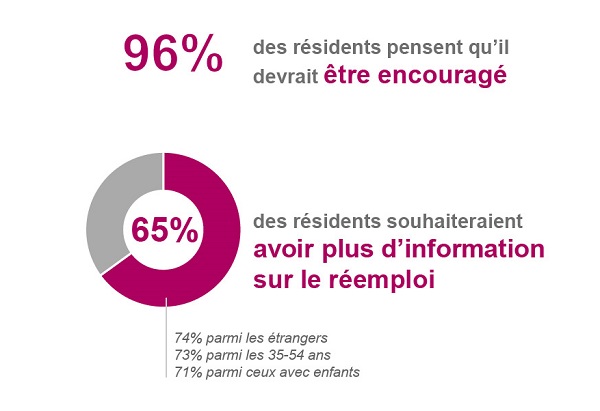 Credit: Environment Agency / TNS Ilres
According to a TNS Ilres survey, second-hand shopping is becoming increasingly popular in Luxembourg.
A new survey launched by Luxembourg's Environment Agency, and carried out by TNS Ilres amoung 1,012 resident households, revealed that one in two Luxembourg residents has bought or used second-hand items.
Second-hand clothing, shoes and accessories were found to be the most popular items, followed by furniture and household appliances, ahead of electronic devices. Most of these items are sold online.
9 out of 10 residents said they have already given away a product they no longer use, and more than half have already bought (63%) or sold (55%) second-hand items. The practice is most popular amoung younger people, with 71% of residents aged 18-44 having already purchased second-hand items and 80% having sold an item they no longer use.
Furniture, books / CDs / DVDs and bicycles / scooters were the products that residents said they would be most willing to buy second-hand, unlike household appliances.
According to the survey, price and respect for the environment are the drivers of second-hand shopping. On the other hand, hygiene, the lack of guarantee, quality and reliability are obstacles to this practice.
Most residents said they bought, sold, gave or trade items throughout the year. 1 in 2 residents said they had bought or received a second-hand item in the past six months, especially books and clothing.
In the context of the circular economy, where waste prevention is becoming increasingly important, the Environment Agency deemed these results "extremely encouraging".