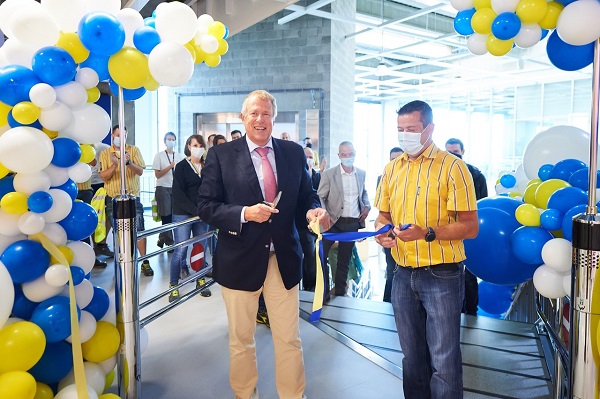 Credit: IKEA Arlon
Scandinavian furniture chain IKEA has given its Arlon branch in Belgian Luxembourg a new look.
Last week, IKEA Arlon officially opened its brand new showroom in the presence of the Mayor of Arlon, Vincent Magnus. This makeover aims to better meet the expectations and specific needs of local and regional clientele.
Opened in 2005, the IKEA Arlon store has a particularly diverse clientele. Composed of Belgian, French, Luxembourgish and other nationals, it is characterised by very different lifestyles, income levels and aspirations to which IKEA Arlon wishes to provide the most adequate response possible.
With this objective in mind, the IKEA Arlon teams undertook to renovate their store by adapting it to the specific needs of their customers. To achieve this, the branch carried out a survey, which revealed that 70% of customers are homeowners, with most of them having a garden or terrace. 33% are single whilst 42% live with children, and 31% of clients residing in Luxembourg have a sofa bed. The living room was the most important room in the house for 68% of customers, with the kitchen coming in second place (43.5%).
On the basis of these observations, IKEA Arlon has been redesigned with sustainability, innovation and "Swedishness" in mind. The store now features more airy spaces, through green patios, as well as sound effects to give customers a more immersive shopping experience. Each room is equipped with tablets to allow customers to test "smart home" solutions by changing the light and sound atmosphere.
The range of products on offer (as well as prices) has also been expanded to reflect the diversity of the income levels of customers.
"IKEA has always strived to be the number one source of inspiration for wellness in the home. To remain so, we must be in tune with what our customers experience and integrate their daily reality into the creation of our spaces. The new showroom is reinventing the way our customers discover our interior design solutions so that they can better visualize themselves as if they were at home", explained Christopher John Burman, Market Manager of IKEA Arlon.
Covering a total investment of €2.5 million, this renovation is also accompanied by the hiring of additional employees and the introduction of specific training courses in order to better serve customers in stores.
The refurbishment of the store is part of IKEA's broader sustainability strategy; the chain aims to become a 100% circular business by 2030.
An activity-packed opening weekend took place on 18 and 19 September 2021.