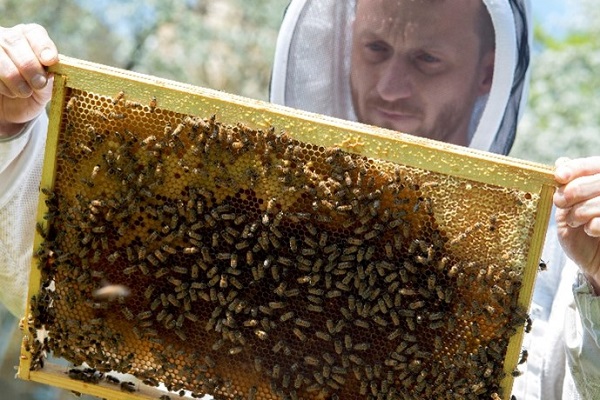 Credit: Lidl
Supermarket chain Lidl announced on Wednesday that three of its Luxembourg stores are hosting around 300,000 bees and willl produce 72kg of honey this year.
In collaboration with beekeeper Hugo Zeller, Lidl is now installing a total of six beehives in its stores in Differdange, Huldange and Pommerloch. The initiative part of the supermarket chain's mission to support the circular economy and local consumption.
With an average of 50,000 bees per hive and with two hives per store, Lidl will host around 300,000 bees which will help revitalise natural pollination. The initiative is an opportunity to remind people of the importance of bees in the entire ecosystem (including in an urban environment) and to give employees the opportunity to benefit from this locally produced honey.
In addition to naturally beautifying and maintaining green spaces, the bees will soon produce honey which will be available from September 2021 (depending on the weather) for all employees working in Lidl stores in the Grand-Duchy. On average, a beehive can produce almost 12 kg of honey per year. Lidl's installations will thus enable the harvesting of some 72 kg thanks to the six beehives installed around its stores.
Beekeeper Hugo Zeller explained: "We will also analyse the honey to find out exactly what pollens and nectars the bees find. Since bees forage for different flowers to make honey, the characteristics of the honey collected from the five Lidl stores will also be slightly different".
The harvest will take place in July 2021, after which the honey will be worked and stirred to give it a perfect creamy consistency. Urban honey will be available for employees and supporters of the local trade in a 125 g jar.
"The decision to set up beehives near our stores is certainly not taken lightly. This is a very strict process that we intend to carry out to perfection, and with the utmost respect for the well-being of our bees, thanks to the expertise of our partner ", commented Julien Wathieu, spokesperson for Lidl Belgium & Luxembourg. "At Lidl, we are motivated by this great initiative. By raising the awareness of our employees, we can all together add our little stone to the building and contribute to a better future".