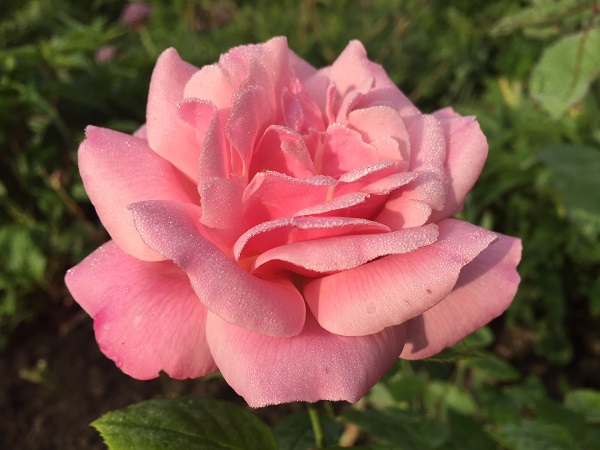 Jacques Vincent rose; Credit: copyright Patrimoine Roses pour le Luxembourg NT
The non-profit organisation Patrimoine Roses pour le Luxembourg has announced that Rose Heritage Week will be held from 18-22 May 2021 during which a large selection of old and modern Luxembourg roses will be on display and on sale.

More than 60 species of Luxembourg roses will be on sale during Rose Heritage Week at the Galerie de La Belle Etoile Shopping Centre in Strassen (open 10:00 - 19:00 daily, and until 20:00 on Friday).

The old roses varieties have a bewitching scent and date from the 19th or early 20th centuries, and are available in limited quantities; for the best results, they should be planted in a sheltered place. The varieties include: Auguste Comte, Bordeaux, Cocarde Jaune, Clothilde Soupert, Doctor A. von Erlach, Duke of Constantine, Evrard Ketten, Gardenia, Général Th Peschkoff, Grand Duchess Charlotte, Graf Fritz Metternich, Gribaldo Nicola climbing, Hugo Maweroff, Jacques Vincent, Jeanny Soupert, La Sirène, Laure Soupert, Léonie Lamesch, Madame Constant Soupert, Madame Gaston Mestreit, Madame Gustave Metz, Madame Jean-Pierre Soupert, Madame Jules Fontaine Lamarche, Madame Segond Weber, Madame Victor Bozzola, Mady, Marthe Cahuzac, Mrs EG Hill, Petite Léonie, Prince Félix of Luxembourg, Prince Jean of Luxembourg, Princess Etienne de Croÿ, Princess Marie-Adelaïde of Luxembourg, Princess Stéphanie of Belgium, Soupert and Notting, Souvenir de Maria de Zayas, Stella, Tour de Malakoff, Violet Wilton, William Notting, Yvon Misson.

Robust modern roses dedicated to Luxembourg include: Absolument Claude, Aline Mayrisch Rose, Anise Koltz Poète, Anne-Beffort, Avec Amour, Château de Munsbach, Emperor Charles IV, Gaard um Titzebierg, Grand-Duc Henri, Grand-Duc Jean, Jardins d Ansembourg, Melusina, Pierre de Luxembourg, Princesse Joséphine-Charlotte, Princesse Sibilla de Luxembourg, Schengen Rose, Simone Veil, Walferdange (80cm), Walferdange (110 cm).

Advice on the choice of rosebush can be given at the point of sale. It is recommended to combine roses with perennials, annuals or lavender, on sale in specialised shops or at markets. A short theoretical course in rose bush pruning is scheduled every day at 17:00.