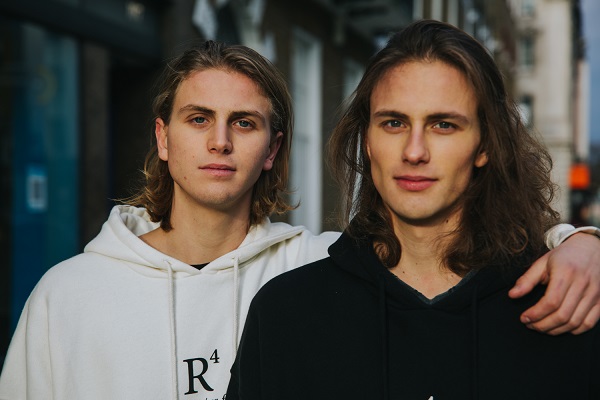 Angelo and Tino Legrand, brothers & co-founders of R4 Clothing;
Luxembourg-born sibling entrepreneur duo Angelo and Tino Legrand have announced the launch of their London-based sustainable clothing brand.
Born in Luxembourg, 23-year-old Angelo and 21-year-old Tino are brothers of Danish and Belgian nationalities who were raised in an environmentally-conscious family in the south of France. Currently based in London where they undertook part of their studies, both are equipped with academic backgrounds in various fields of sustainability. Two years ago, whilst pursuing their entrepreneurial careers, they decided to create a sustainable clothing brand that aims to rebuild lost connections between people, nature and fashion. Three weeks ago, the brothers finally launched R4 Clothing.
According to the brand's founders, R4 (Reduce, Reuse, Recycle, Repeat) bridges ethics and aesthetics, creating clothes that matter. Sustainability is implemented at every step of the product's life cycle: from the materials and fabrics used in cultivation and production, to the packaging, the marketing material and the end-oflife journey.
For R4's first collection, the "Concept Collection" presents a blend which brings consumers back to the roots of the textile industry: hemp and certified organic cotton, both of which showcase multiple environmental benefits in comparison to conventional fabrics. Additionally, 5% of R4's profits are donated to the environmental non-profit association TAF – The Animal Fund, which aims to raise awareness on the dangers facing the ocean and its marine life.
In the long-term, the brand aims to become a platform for the normalisation of sustainability in the fashion industry, providing a range of wardrobe essentials developed from different sustainable fabrics.
As well as raising awareness of the importance of environmental sustainability in the fashion industry, R4 aims to bridge a gap between fashion and people. The brand's garments are produced in Portugal, where quality as well as high ethical and social standards are a priority.
As a celebration of cultural and societal diversity, the garments are unisex and crafted with simple and minimalistic designs.
The entrepreneur brothers noted: "We want you to feel good in what you wear, and in being sustainable".