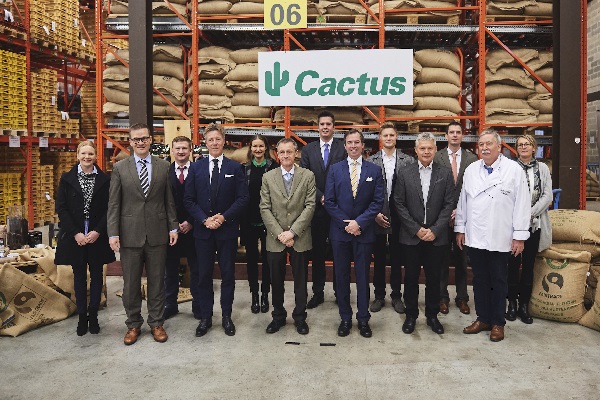 L-R: Sophie Leesch, Marc Hoffmann, Charel Leesch, Laurent Schonckert, Cathy & Max Leesch (Cactus), Minister Lex Delles, Hereditary Grand Duke, Chris Leesch, Jeff Leesch (Cactus), Rick, Fritz & Rebecca Hotschnig (Schnékert Traiteur); Credit: Cactus
His Royal Highness the Hereditary Grand Duke and Luxembourg's Minister for Small and Medium-Sized Enterprises, Lex Delles, yesterday visited the production workshops of family company Cactus in Windhof.
On this occasion, the Hereditary Grand Duke and Minister Delles were received by Max Leesch, Chairman and CEO, Jeff Leesch, Director, Laurent Schonckert, Director General, and Marc Hoffmann, Marketing Director, from Cactus, and Fritz Hotschnig, Director of Schnékert Traiteur.
During their visit, the special guests were able to discover the production workshops of Schnékert Traiteur, Cactus bakery workshops and the Bruno house roasting workshop.
The Cactus brand has 57 outlets in a multi-format network (Cactus supermarkets, Cactus hobbi, Cactus shoppi). With its own production facilities, Cactus is also a producer of homemade foodstuffs. The company employs more than 4,200 people.