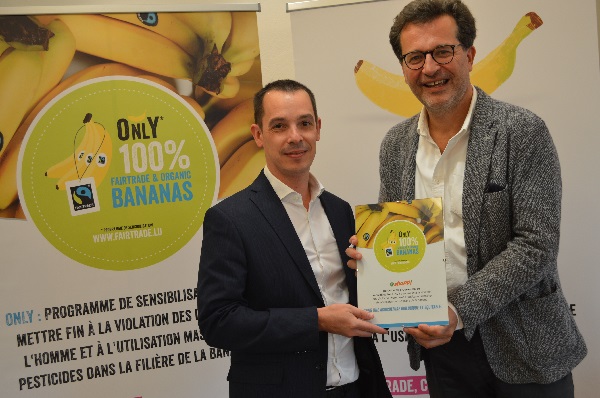 Jean-Louis Zeien, President of Fairtrade Lëtzebuerg, presents the "ONLY" certificate to Jean-Paul Leesch, head of the Cactus shoppi network; Credit: Cactus
Fairtrade Lëtzebuerg has awarded Cactus shoppi the "ONLY" certificate for its commitment to fair trade; for several months now, Cactus convenience stores in Luxembourg have marketed 100% organic and fairtrade bananas.
At the end of the press conference "The true costs of the banana", marking the beginning of the "Make Bananas Fair" campaign, Cactus was awarded the "ONLY" certificate by the NGO Fairtrade Lëtzebuerg. This awareness programme rewards all those who market exclusively fairtrade organic bananas and thus actively fight against the massive use of pesticides and against human rights violations in the banana sector.
Last April, 20 years after introducing bananas as the first fresh fruit from the fair trade market in Luxembourg, Cactus decided to strengthen its commitment by only selling fairtrade bananas in its Cactus shoppi convenience stores.
Jean-Paul Leesch, head of the Cactus shoppi network, explained: "Fair trade is firmly rooted in our DNA, as our partnership with Fairtrade Lëtzebuerg has shown since 1993. We are proud to contribute to the building of a fairer world by guaranteeing a fair income for banana producers in the South".
Fairtrade bananas for sale at Cactus come from Central and South America, such as the APPBOSA cooperative in Saman, northern Peru.