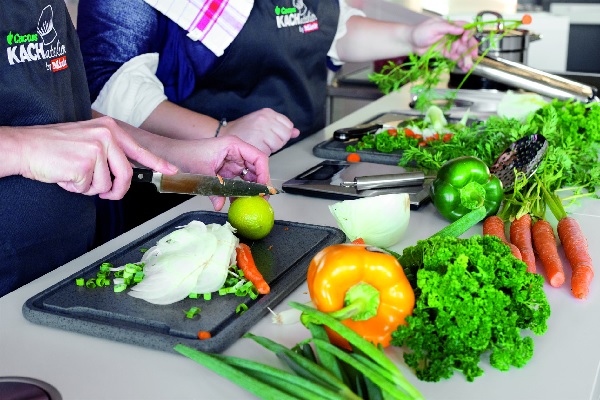 Luxembourg supermarket chain Cactus has teamed up with Miele to launch the new season of "Cactus KACHatelier by Miele" cooking workshops.
Once again this year, Cactus and Miele have decided to put their skills together to offer new culinary workshops at the "Cactus KACHatelier by Miele" in Windhof. According to their respective philosophies, Miele "Immer Besser" and Cactus "Nëmmen dat Bescht", the two brands will share their common commitment with the participants by proposing a new concept of culinary workshop in two menu options: an "express" menu for lunch and a "relax" menu in the evening.
These workshops are delivered by a Miele Culinary Expert who will present easy, healthy, fast and tasty daily recipes with regional and seasonal products from Cactus. Open to all, the culinary expert ensures that everyone completes the meal, including complete beginners. Participants will learn about the products they use, receive tips and tricks and discover new cooking techniques to refine their skills.
Finally, at the table, the participants will enjoy their meal in a friendly setting, accompanied by wines selected by Cactus.
Programme
28 March 2019: Quickly done, well done and healthy! (Cook & Lunch)
4 April 2019: At table for Easter! (Cook & Eat)
16 May 2019: Italian Inspirations (Cook & Eat)
27 June 2019: Under the summer sun (Cook & Eat)
17 October 2019: Autumn Lunch (Cook & Lunch)
14 November 2019: Dinner with autumn colours (Cook & Eat)
5 December 2019: Long live the holidays! (Cook & Eat)
More information on the different courses and registrations are available at www.cactus.lu.