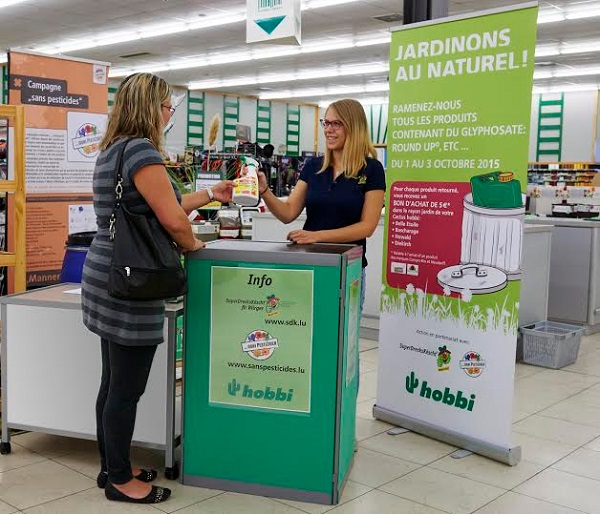 Cactus supermarket today announced the success of its initiative to have customers return Roundup products to the shop with a view to eliminating products containing harmful pesticides from its gardening range.
Following Cactus' STOP Roundup campaign in June earlier this year, the Cactus group have removed glyphosate products from its shelves. The 'Recovery of Products Containing Glyphosate' action, organised in partnership with SuperDrecksKëscht, invited customers to return these ecologically dangerous products to the shop on 2,3 and 4 October 2015 in return for a voucher for €5, valid for the purchase of a product from the Compo-Bio and Neudorff brands.
These products were then sorted into the two categories of liquid or solid pesticides, before being gathered at the temporary storage warehouse at Colmar-Berg and transported to Indaver in Antwerp, a longtime partner of SuperDrecksKëscht. Indaver is a worldwide known company for the responsible treatment of waste, under the belief that "waste is a stage in the life cycle of a material. It is a source of new raw materials and renewable energy". Indavar will burn the pesticides whilst ensuring the recovery of as many materials and energy as possible.
"More than 300 products for a natural garden are already available to clients at Cactus Hobbi and that is a major project for Cactus due to a strong will to offer more natural products," commented Marc Hoffmann, Director of Marketing at Cactus.
The supermarket chain has announced other support measures are in the pipeline to promote environmentally-friendly alternatives. This initiative taken by certain shopping chains has been commended by the Luxembourg government, with the use of phytopharmaceutical products to be banned in public places from 2016.
Photo by Cactus