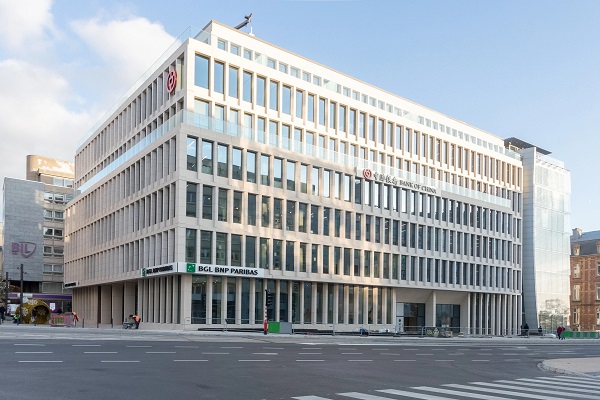 Spaces Boulevard Royal; Credit: ICEYE
ICEYE, a Finnish commercial synthetic-aperture radar (SAR) satellite operator and an expert in environmental hazard data, has announced the opening of a new office in Luxembourg City.
The office will also include ICEYE's new Machine Learning Centre of Excellence, where the company will look to explore, develop and lead its advancements in machine learning (ML) and artificial intelligence (AI) for SAR and earth observation technologies.
"We are thrilled to be opening our new office in the beautiful city of Luxembourg", said Steven Scheers, Chief People & Culture Officer at ICEYE. "Our aim is to attract the best talent in the world for our increasingly growing company. Having an increased footprint, right in the centre of Europe, will play a pivotal role in helping ICEYE attract the best available opportunities from a talent pool perspective".
The opening of ICEYE's Luxembourg office was completed in conjunction with the Luxembourg Future Fund (LFF) and its investment in ICEYE's Series C investment round. The fund aims to stimulate the diversification and sustainable development of the Luxembourgish economy by attracting venture capital fund managers and early to later stage innovative businesses into Luxembourg. It was set up by the European Investment Fund (EIF) and the Société Nationale de Crédit et d'Investissement (SNCI).
"On behalf of Luxembourg Future Fund (LFF), a shareholder in ICEYE since December 2019, we are very pleased to see the company's opening of a Luxembourg office", commented Patrick Nickels, SNCI Chairman. "ICEYE's decision to open their next European office in Luxembourg affirms that the country has successfully positioned itself as a hub for the growing space and satellite sector. The company's office opening furthermore evidences its positive commercial traction with more and more clients requiring access to timely and reliable radar satellite imagery".
"The opening of our Machine Learning Centre of Excellence in Luxembourg will cultivate an applied machine learning team that will be at the forefront of our industry", added Dr. Abdullah Almaksour, Machine Learning Team Lead at ICEYE. "Advancing what machine learning, computer vision and AI really mean for SAR technology, we'll be able to focus and develop our research capabilities surrounding our existing use cases for natural catastrophes and deforestation while also exploring future solutions for our customers".
The new ICEYE office will be located in Luxembourg City's historical Ville Haute district inside the premises of the Spaces Boulevard Royal building