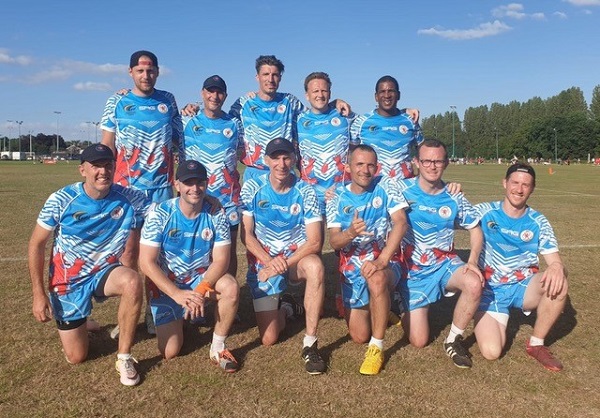 Luxembourg's Men's 30s Tour Rugby Squad;
Luxembourg's M30s team (players 30-35yrs plus) has been competing in the European Touch Rugby Championships which has been played at Nottingham University in England.
A total of over 1,000 players and 150 officials from 17 countries have been competing over a period of five days. By the end of the competition over five hundred 40mins Touch games were played.
The team from the Grand Duchy performed valiantly with a small squad after injuries and circumstances decimated the team. Playing against England, France and Ireland, Touch Luxembourg played against world-class amateur sides with large squads and player pools (for example, in England there are over 500,000 registered Touch players). The team has done well to keep its patterns and shape under intense pressure, with the pace and athleticism of the players evident.
Against both Belgium and Switzerland, the Luxembourg team have had closer games and started to score tries. To see the Swiss game with full commentary, click on the video link https://www.youtube.com/watch?v=XRvbKp9Vsvs
In their final pool game against Sweden, Luxembourg just came up short of what would have been their first win of the tournament.
Later on Friday, they played their quarter-final game against France, and then their final (play-off) game on Saturday against Switzerland.
Results:
2 Aug: Ireland - Luxemburg: 8-0
2 Aug: England - Luxembourg: 20-0
3 Aug: Switzerland - Luxembourg: 7-4
3 Aug: Belgum - Luxembourg: 9-3
4 Aug: Luxembourg - France: 0-11
5 Aug: Luxembourg - Sweden: 5-7
5 Aug (QF): France - Luxembourg: 17-1
6 Aug (Playoff B): Switzerland - Luxembourg: 8-2
England beat Ireland 12-0 in the Gold Medal match.