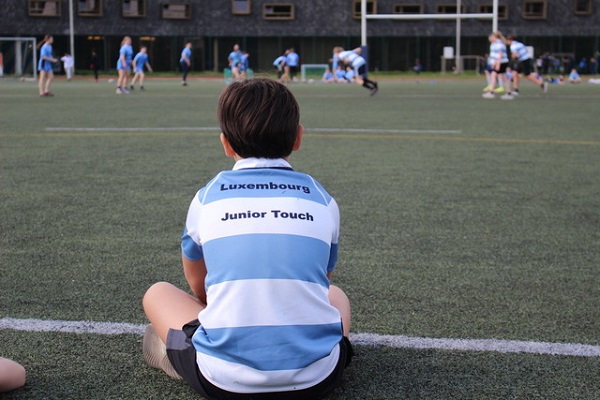 Last Sunday, 24 April 2022, Rugby Club Luxembourg's (RCL's) Junior Touch teams travelled to the Brussels Buffalos to play in their first ever competitive games against another club; RCL fielded two mixed teams at U15 and U12 age groups with eight of the fifteen players being girls.
This was an important milestone as it was a chance to put into practice against another club of the same age division, what they had learned in their training games. RCL first started Junior Touch four years ago, as a way of getting more children involved in playing sports. It appeals to girls and boys who love to run and catch but maybe don not like the physical contact of rugby. The initiative has been particularly successful at attracting girls to the club, with over twelve girls regularly playing every Saturday. Three players have been selected to play in the Junior European Championships in U15 & U18 mixed division in a joint initiative between Touch Luxembourg and Touch Belgium. Touch rugby has also proved to be a pathway into the mainstream Rugby Ecole for children who want to play rugby, as well as proving a great sport for schools such as ISL.
Scores
One team just won and the other just lost, so the honours were shared; however, the winners were the children, each and every one playing to their potential on the day. RCL looks forward to hosting the Buffalos shortly in Luxembourg to play in what will be the first ever U15 girls Touch game.
For those who think that their children (daughters and sons) would like to play Touch Rugby, more information is available online at www.rcl.lu/Touch. Alternatively, there is Luxembourg Touch's Facebook page https://www.facebook.com/LuxembourgTouch/
RCL Touch is part of the Rugby Club de Luxembourg (RCL)
Touch originated in the 1960s as a non-contact form of Rugby league. It is a fast and dynamic six-a-side game with rolling substitutions played on a 50x80m pitch. Because the game is not based on physical contact, but on speed, skill and strategy, it is played by both sexes, and very often in mixed teams. If you would like to know more about Luxembourg Touch, or would like to play at our regular Tuesday night training and games sessions at Stade Boy Konen in Cessange, email: luxembourgtouch@gmail.com