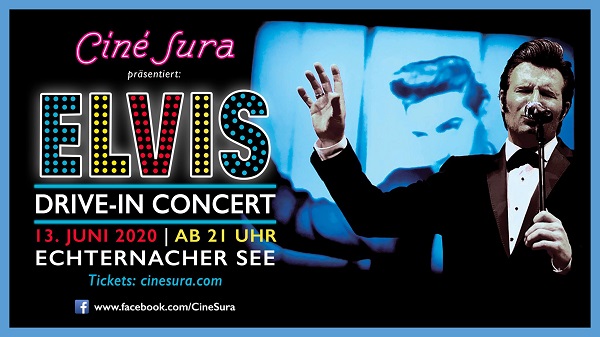 Tribute artist Steven Pitman will be performing at the upcoming Elvis Drive-in Concert, taking place this Saturday 13 June 2020 from 21:00 at Echternach Lake.
Tickets for this concert, organised by Steven Pitman, Ciné Sura and Designing Entertainment, cost €15 for adults, €10 for students / pupils and €7.50 for children up to 12 years old. There will be no box office for this event.
The following snack packages can be bought together with the tickets:
1 single package: €11.50 (1 x popcorn, 1 x crisps, 1 x M&M's, 2 x drinks of your choice);
1 family package: €22 (2 x popcorn, 1 x crisps, 1 x M&M's, 1 x butter cookies, 4 x drinks of your choice)
Three different menus can also be ordered:
1 bacon cheeseburger: €10
Penne Bolognese: €10
Tofu Curry Thai: €15
Tickets are only available in advance via email: cinesura@gmail.com. Those interested in attending should send an email to this address by today, Friday 12 June 2020, mentioning the date of the event (13/06/20), their full address, their vehicle number plate, the number of tickets requested and the number and type of snacks / menus desired. They will then receive an invoice by email which can be paid via bank transfer or Digicash. Payment must be made before 12 June.
After receipt of payment, spectators will receive the tickets via email. These have to be printed out in advance. All tickets contain a one-time scannable QR code.