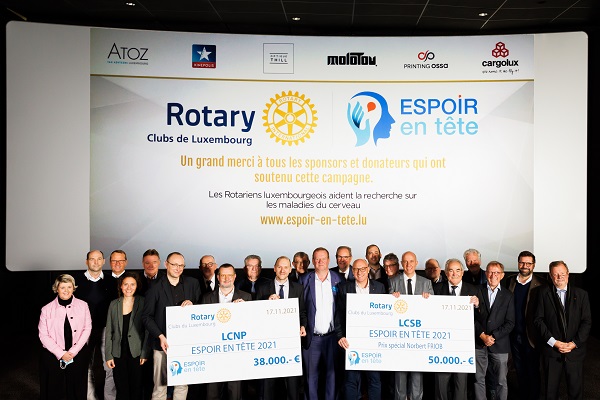 Credit: Rotary Clubs of Luxembourg
The Rotary Clubs of Luxembourg have raised €88,000 for research on neurological disorders as part of this year's "Espoir en tête" (hope in mind) initiative.
The year 2021 marked the 9th edition of "Espoir en tête", an action initiated by all Rotary clubs in Luxembourg. Traditionally, the initiative raises donations through the screening of a Walt Disney Studios film in Kinepolis cinemas in Luxembourg. This year, due to the COVID-19 pandemic and the health measures in force at the start of 2021, the screening was cancelled.
Despite being led differently this year, the initiative still achieved its objective of financing research projects on neurological disorders in Luxembourg.
As every year, several Luxembourg institutions active in this field presented their research projects to a jury of experts in charge of selecting the project(s) to be supported. The first of this year's two chosen projects is working to develop a new treatment targeting the gut microbiota linked to Parkinson's disease. Developed by the Systems Ecology Group of the Luxembourg Center for Systems Biomedecine (LCSB) of the University of Luxembourg, this project led by Professor Dr. Paul Wilmes received a donation of €50,000.
The second project, which received €38,000 in funding, studies the decryption of cellular signatures associated with memory decline in Alzheimer's disease, as well as neuropathology and technology to identify the alterations that lead to cognitive symptoms. It is developed by the Neuropathology Group of the Luxembourg Centre of Neuropathology at the LCSB of the University of Luxembourg and is directed by Ph. D David Bouvier.
Over the past nine editions, Luxembourg's Rotary clubs have raised €589,000 for neurological disorder research. Club members expressed particular thanks to Norbert Friob, Governor of District 1630 of Rotary Clubs in 2013/2014 and one of the initiators of the "Espoir en tête" project in Luxembourg. His support has made it possible in particular to create a new special prize called "Espoir en tête - Prix Norbert Friob", awarded this year to the project led by Professor Dr. Paul Wilmes.
The Rotary Clubs of Luxembourg form part of Rotary International, an international service organisation which works with business and professional leaders to provide humanitarian service worldwide.