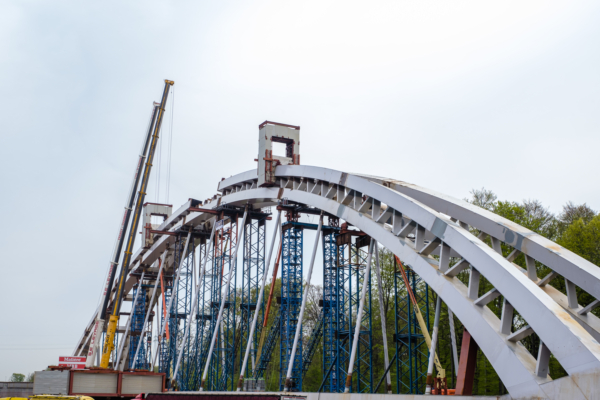 Credit: CFL
Luxembourg's railway company, the CFL, announced the completion of the pre-assembly of a 5,850 tonne bridge, with the installation of the last elements of the upper arch, last weekend.
The bridge, also known as OA14 structure, is part of the project for the new seven-kilometre railway line between Luxembourg city and Bettembourg, and will be one of the largest "bow string" type railway bridges in Europe.
The construction of this new line is part of the CFL extension and modernisation works programme. The addition of capacity on this particularly busy section will improve the quality of services offered to customers to or from the south of the country, or even the Lorraine region.
The 36 elements of the arches in place
Started in mid-October 2021, the assembly and arc welding work at the level of the OA14 engineering structure near the A3 motorway has progressed well. Thus, a new landmark stage of the bridge with a span of 200 metres was finalised this past weekend with the installation of the last two of the 36 elements in total, which will form the two double arches of the bridge. After the finalisation of the lower arch in January 2022, the arches of the upper arch, two box elements 14.4 metres long and two metres high, are now also in place to define the final silhouette of the bridge.
Two 300-tonne cranes were installed and precisely positioned the day before to place the almost 40-tonne centrepieces in their final location at a height of more than 42 metres. A job of this magnitude requires good coordination and collaboration from everyone on site, whether on the ground or in the elevated platforms. In a first step, the elements were lifted using cranes and placed to the nearest millimetre. Once temporarily installed, they were clamped after the geometric inspection of their location were confirmed according to the assembly plan. The installation was done in four hours thanks to the coordinated work of the team of 20 welders, six fitters, as well as project managers on site.
The next steps
Following the assembly of the arches, these arc boxes from the inside and outside still need to be welded, as well as the upper parts of the lines grafted onto the starters of the lower arches. In mid-June, the temporary bents, currently supporting the entire metal structure of the two double arches and its 24 hangers to a height of 38 metres, will be removed. From September, the jacking of the bridge will be carried out in nine stages at its transport height with the simultaneous removal of the bents under the two tie rods. The shifting, during which the 5,850 tonne bridge (weight without concrete deck) will be transported by KAMAGS to its final location on the A3 motorway, will take place in October 2022.