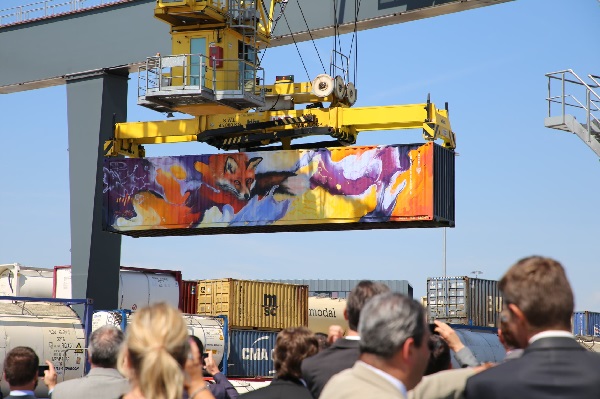 Luxembourg artwork containers join Noah's Train; Credit: CFL
Noah's Train, an awareness initiative to reduce the environmental footprint of rail freight transportation and the longest mobile artwork in the world, yesterday stopped in Dudelange, Luxembourg.
On this occasion, two containers, painted by Luxembourgish artists, joined Noah's Train, an initiative launched by several European railway companies to promote freight transport by rail. Together in the Rail Freight Forward coalition, they defend a common goal: to reduce the environmental impact of freight transport in Europe.
Founded after the COP24 in Katowice in December 2018, the Rail Freight Forward coalition currently counts eighteen members, including Luxembourg's CFL cargo, which with its sister company CFL multimodal is actively working on promoting rail transport in Europe, and Luxembourg in particular. Aware of the ecological crisis, the signatory railway undertakings wish to raise awareness of a transition towards more environmentally friendly modes of freight transport. Their horizon of action extends until 2030, to double the share of rail freight in Europe from 18% to 30%.
On 10 July, Noah's Train stopped in Luxembourg, in Dudelange. Two containers painted by the Luxembourgish artists Daniel Mac Lloyd and Alain Welter joined the train, which is already composed of twelve containers belonging to the members of Rail Freight Forward.
In the presence of political figures and representatives of the Rail Freight Forward alliance, Marc Wengler, the CEO of CFL, presented the project and the objectives of the alliance. Indeed, Rail Freight Forward works to mobilise railway undertakings so that they offer attractive and competitive services, infrastructure managers so that they can ensure that it is as easy to cross Europe by train as by lorry and European and national institutions so that they may guarantee a level playing field between the different modes of transport. For his part, François Bausch, Minister of Mobility and Public Works, underlined the Luxembourg Government's political will to put logistics at the heart of Luxembourg's economic diversification policy, to support investment in national logistics centres and to invest in efficient and innovative infrastructures.
The journey of Noah's Train started in Katowice, Poland, on 14 December 2018. The train then headed to Vienna, Berlin, Paris, Brussels and Rome for a recent stop in Munich on 4 June 2019 at the transport logistic fair. It will continue its journey through Europe until next October, when containers will join the COP25 taking place in Chile.