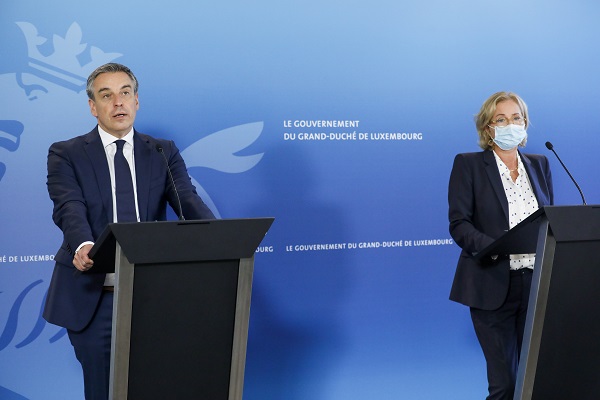 L-R: Claude Meisch, Minister of Education, Children and Youth; Paulette Lenert, Minister of Health; Credit: SIP / Julien Warnand
At a press conference on Thursday, Luxembourg's Minister of Education, Childhood and Youth, Claude Meisch, and the Minister of Health, Paulette Lenert, announced that pupils and teachers will no longer be required to wear face masks in classrooms when public schools reopen on 15 September 2021.
As the 2021-22 academic year begins, masks will no longer be mandatory for pupils and teachers in Luxembourg's primary and secondary schools. This is also the case for pupils when in the playground.
However, masks still need to be worn inside school buildings, i.e. in corridors, during activities including ten or more people and on school transport.
Regular COVID-19 testing is also required, with primary pupils having to take two rapid tests per week at school and secondary students having to take one test at school and one at home each week. Testing remains free of charge.
If a positive case is detected in a class, masks will be required until everyone has been tested. Students who have been vaccinated against coronavirus or who have recovered from the virus will not have to quarantine.
By 15 September, 90% of teachers and 50% of children over the age of 12 are expected to have been fully vaccinated.
Schools and childcare services, such as "Maison Relais", will apply the existing scenario system.
Primary pupils in Cycle 1 and pre-school classes will continue to follow the rules which applied before the summer holidays; these children are not required to wear masks.