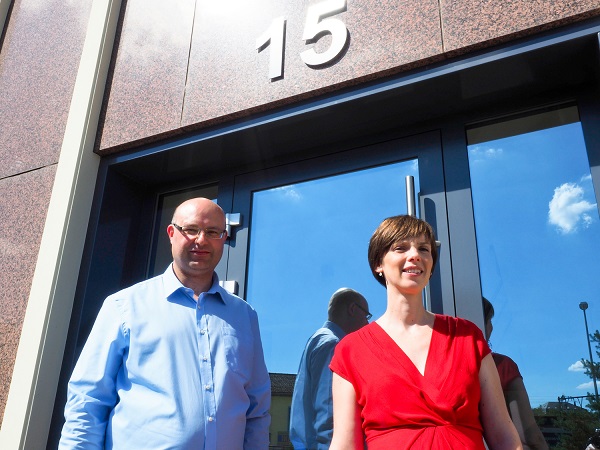 FinTech Zone, Luxembourg's first independent FinTech centre, is being launched this coming Thursday 8 September 2016 at the Hotel Le Royal in Luxembourg city centre.
Matt Elton, co-founder of FinTech enabler, FinnoLux, and of Luxembourg's first independent FinTech centre, the FinTech Zone, talked with The Luxembourg Chronicle ahead of the launch. Together with Leen Cuypers, they participated in the Ireland Luxembourg Chamber of Commerce (ILCC) Innovation Contest earlier which culminated in a Pitching Contest on 9 May at the LuxFutureLab.
Matt described the four focal points of the company being:
• Setting the Stage: Creating a culture where innovation can happen. This involves leadership transformation, as well as buy-in from all levels of the organisation. Cultural transformation leading to Digital Transformation of traditional companies in the financial sector.
• Gathering and Enriching Ideas: Here they use a mix of technology and techniques (boot camps, workshops, rapid prototyping) to gather and enrich ideas. Idea Management is essential to unlocking the collective genius within an organisation.
• Delivering FinTech: Of course is about making FinTech real by actually delivering game-changing products and services. A large part of this comes from matchmaking building blocks created by specialists in the start-up world with real opportunities – to a large extent connecting Fin and Tech.
• FinTech in Luxembourg: A special service for International Companies who wish to set up their European operations in Luxembourg, at the heart of the European Union. They work hard to identify growth-mode FinTech companies around the globe who want to either move to, or create a presence in Europe, and they are already working with companies from elsewhere in Europe (Germany, Ireland, Netherlands and UK) as well as companies from Australia, Canada, Brazil and Uruguay. It is for these companies, and well as local start-ups, that they have created the FinTech Zone.
They believe that their deep industry knowledge combined with their positioning in the local as well as the international eco-systems make them an ideal choice when looking for a FinTech enabler, whether in search of investors, business collaborations, customers or advice.
Their tailor-made, hands-on approach with a focus on People, Culture & Technology results in:
• Digital Transformation: Empowered management teams are enabled to digitally transform their company as a result of the deep understanding of the digital & FinTech revolution as well as the concept of collaborative innovation;
• Reinventing Innovation: The way in which products and services are developed changes drastically when the focus shifts from isolated teams to collaboration and the collective genius;
• Create FinTech: Building bridges between people, companies and eco-systems and sharing their extensive industry knowledge and network results in successful game-changing products and services.
The FinTech Zone is the first independent FinTech Centre in Luxembourg
The centre provides a home for local and international FinTech start-ups and more established companies who wish to create a presence in Luxembourg. As an independent centre, it does not have a difficult application process. They have created an environment where one's business can thrive, where surrounding oneself with other FinTech companies who are all striving for the same thing is very powerful. The FinTech Zone is the place where the synergies between like-minded people will lead to game-changing products and services.
Going beyond the services of a traditional incubator or accelerator, the services available include:
• Help to identify unique business opportunities for a company/product, based on our extensive network and experience;
• Facilitating introductions to research organisations, universities and government agencies for research-related projects;
• Provide assistance in accessing funding, both locally and at EU level;
• Identifying customers, interesting business collaborations and investors;
• Advising on the tailoring of a product to meet the needs of the European market;
• Cultural awareness workshops to understand how to position products aimed at the Financial Services market;
• "FinTech English" bootcamps and workshops, to provide non-native English speaking start-ups with the language skills they need to promote their company and products in the largely English speaking dominated world of FinTech.
Furthermore, through their network in Luxembourg they have put together a unique package of services which bring together all required pieces to setup and locate your FinTech business in Luxembourg. These partners include: accountants, lawyers and notaries, relocation agents, real estate agents, recruitment (both local and pan European), sales and marketing, events, Industry associations and more.