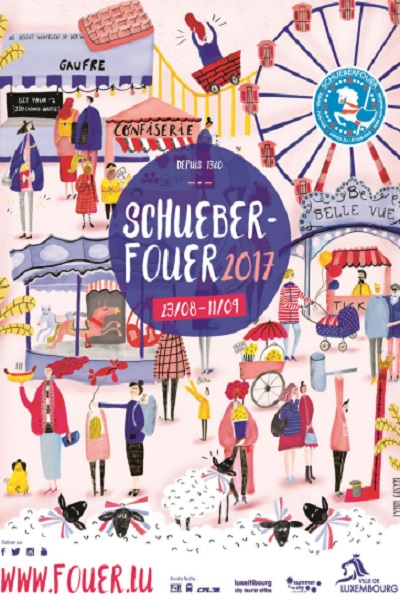 The 677th edition of the Schueberfouer, to be held from 23 August to 11 September 2017, will welcome 180 fairgrounds and 80 rides in the Glacis carpark.
Next Wednesday 23 August 2017 will mark the start of the 677th edition of the Schueberfouer, transforming the Glacis area in Luxembourg City once more into a giant funfair for all members of the public. Each year, the fair attracts around two million visitors, making it one of the most popular in the Greater Region and Europe.
This year, however, the Schueberfouer has been revamped to adapt to current national and European standards. This has meant that Glacis has undergone important infrastructure works over the past few months, including the modernisation of certain establishments and the modification of electricity networks. As such, this year has seen the first reorganisation of the annual funfair event since 1990.
Following the official opening of this year's edition, at 17:00 by the Mayor of Luxembourg City Lydie Polfer, visitors will have the chance to enjoy 20 days of attractions, entertainment, rides and carousels, as well as restaurants, and confectionary, every day from 11:00-01:00 on weekdays and Sundays, and from 11:00-02:00 on Fridays and Saturdays.
New attractions for the 2017 edition include the "Jules Verne Tower", "Laser Pix", "Big Splash Surf Tiki", "Musikexpress", "Fuzzy's Lachsaloon", "Giant XXL Toboggan", "Ring Renner", and "Mais Man". Meanwhile, the following ever-popular attractions will return to the fair this year: "Circus Circus", "Power Tower 2", "Eurocoaster", "Rotor", "Happy Sailor", and "Tornado Power".
In terms of gastronomy, a new restaurant, the "Taverne op der Fouer", is being introduced this year, whilst "Friture Kugener", "Friture Armand", "An der Flesch" and "Am Stall / Stübli" have expanded their terraces and exteriors. In total, food and drink establishments can now accommodate some 6,500 people at one time. More information on attractions and gastronomy can be found online at www.fouer.lu.
Following 20 days of fun, the Schueberfouer will close on Monday 11 September 2017 with a firework display organised by the Ville de Luxembourg and the International Committee of Festivities of the Schueberfouer on the Grande-Duchesse Charlotte Bridge.
Key dates & times:
- Wednesday 23 August @ 17:00: Formal Opening at the main gateway
- Tuesday 29 August @ 16:30: Journée des Bourgmestres (Mayors' Day, where a number of mayors from throughout the Grand Duchy serve meals at certain restaurants)
- Wednesday 30 August: Family Day (reduced prices for rides)
- Thursday 31 August @ 17:00: Journée des Reines (Queen Day) at the main gateway
- Sunday 3 September: Fouer Sunday
- Monday 11 September @ 11:00-20:00: Half-Price Day; @ 22:00: Fireworks from the Grande-Duchesse Charlotte Bridge