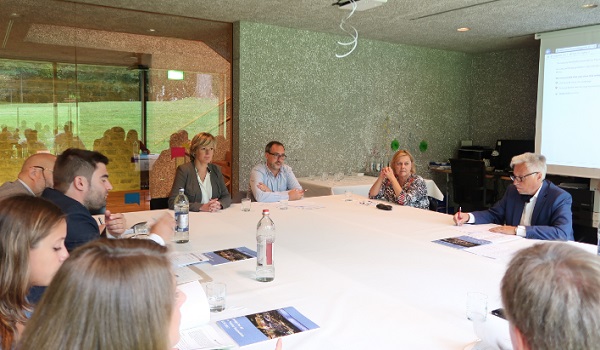 In the first half of 2017, the Luxembourg tourism balance increased by up to 9.4% in some areas, with a 3.8% increase in the hospitality sector in general.
On 10 August 2017, the Secretary of State for Economic Affairs Francine Closener visited several tourist attractions in the Moselle region, including the Biodiversum in Remerschen, as well as the marina and campsite in Schwebsange.
According to surveys carried out by Luxembourg for Tourism, the figures recorded for the period between 1 January and 30 June 2017 are up from the same period in 2016. In terms of overnight stays, there was a 9.2% increase in camp sites and a 9.4% increase in youth hostels. Hospitality was up 3.8%, with the capital posting the best results with a 6.2% rise in overnight stays alone.
A combination of factors explains the positive results posted in the first half of 2017 in the various accommodation structures, such as increased promotion, strong demand for "city trips", mild weather especially during school holidays and public holidays, the dynamism of the economy both in Luxembourg and in the euro area and the return of the distant clienteles.
In terms of overnight stays in tourist regions, the trend in the first half of 2017 is on the rise across all regions (Moselle +3.5%, Ardennes +1%, South +0.8%, except for the Centre-West (-1.6%) and the Mullerthal region (-0.8%).
Aiming to encourage tourist actors to develop their infrastructures so that they are accessible to all in order to further promote the tourist development of the country, the accompanying committee meets four times a year and is made up of representatives of all tourism actors as well as the Horesca, the Chamber of Commerce and Info-Handicap.
Photo by MECO