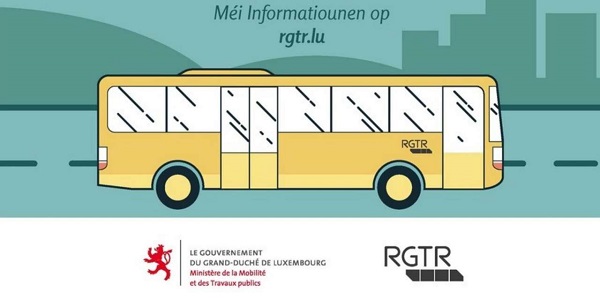 Credit: Luxembourg Government
On Friday 2 December 2022, Luxembourg's Ministry of Mobility and Public Works, together with the Public Transport Administration, announced that several rural (RGTR) bus lines to industrial sites, and operating in shifts, will be eliminated.
A reorganisation of the entire RGTR bus network was carried out between 2016 and 2022. This period included preparatory participatory studies and analyses, a public tender for the operation of this network and finally its implementation including, among other things, a complete renumbering of the lines in 2022.
The public transport network is intended to provide a public transport service. The coverage of the RGTR network as it has been set up makes it possible to cover the needs that have been observed and expressed by the municipalities and members of the public.
In the past, some industrial and shift work sites were served by RGTR bus lines. These lines had been created over time and adapted according to the work plans of the teams in the companies concerned.
The lines concerned were not part of the public tender for the operation of the RGTR. According to the ministry, maintaining such lines runs counter to the efforts made with mobility strategies – the Modu 2.0 strategy emphasises the 4 actors of mobility, namely employers and educational establishments, citizens, the state and municipalities. The statement als mentioned that the role of the State does not consist in setting up a transport service dedicated to the needs of a private company: it is also necessary to ensure fair treatment of companies, because today there are companies that organise and take charge of their own measures to improve the mobility of their employees.
The ministry stated that maintaining these lines is not justifiable either, because of the low use in recent years. Bus occupancy counts are made using automatic sensors to identify the number of passengers boarding and alighting at each bus stop. According to the counts analysed on the 21 lines concerned, the maximum occupancy of a line to a site was 15 - 16 people on average and distributed over all the journeys carried out over a day. For most of these lines, this average was well below 10 people. Occupancy is therefore extremely low.
The implementation of instruments such as company mobility plans enables companies, with the support of public authorities, to jointly find mobility solutions while calling on the responsibility of companies towards their employees.
For these reasons, it was therefore decided to discontinue the operation of these bus lines, with effect from 12 February 2023. The large companies concerned were notified of this decision at the end of November 2022.
The annual cost for these lines amounts to approximately €4.5-4.8 million.
The lines concerned are:
10U: Roodt/Syre (Z.I.) - Gilsdorf - Diekirch
13U: Erpeldange - Colmar/Usines-Roost
14U: Asselborn - Colmar/Usines
15U: Troine - Clervaux - Colmar/Usines - Bissen/ArcelorMittal
16U: Rodershausen - Colmar/Usines
17U: Clervaux - Hosingen - Stolzembourg/SEO
20U: Reisdorf - Steinsel Z.l.
21U: Echternach - Colmar/Usines
40U: Contern Village/Contern ZI - Sandweiler Gare
50U: Bettembourg, Gare - CFL Multimodal - Eurohub
60U: Niedercorn - Esch - Dommeldange - Steinsel Z.l.
61U: Rodange - Dommeldange - Steinsel Z.l.
70U: Rodange- Steinfort - Colmar/Us. - Diekirch
90U: Perlé - Rambrouch - Ettelbruck
91U: Colmar/Usines - Beckerich - Arlon (B)
92U: Bigonville - Colmar/Usines
93U: Martelange - Colmar/Usines
94U: Boulaide - Colmar/Usines