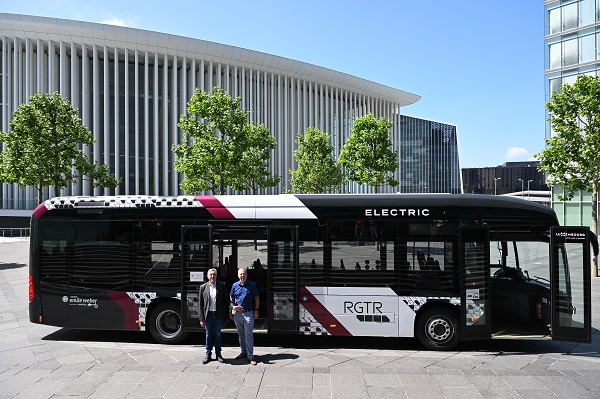 L-R: François Bausch, Deputy Prime Minister, Minister of Mobility and Public Works; Alex Kies, Director of Public Transport Administration; Credit: MMTP
On Monday 19 July 2021, Luxembourg's Deputy Prime Minister and Minister of Mobility and Public Works, François Bausch, and the Public Transport Administration unveiled the new design of the RGTR regional buses.
As part of this rebranding, Minister François Bausch presented a first bus model with the new design. The objective of this rebranding is to guarantee uniformity and recognition of RGTR buses, as well as the development of the RGTR brand as a vector of quality transport services.
Based on the RGTR logo which is already present on the fleet currently in circulation, the buses will gradually adopt a new modern and light design, which is easily identifiable. In order to allow a distinction between the 34 different RGTR operators, the elements and patterns of the design will remain the same, while the colours will be adapted depending on the operator.
The presentation of the new design initiates the finalisation phase of this project, which began in December 2019. The lettering of the entire RGTR fleet will take place over the coming months, with completion scheduled for spring 2022. The RGTR vehicle fleet currently comprises more than 1,200 buses. In 2020, these buses covered almost 70,000,000 km.