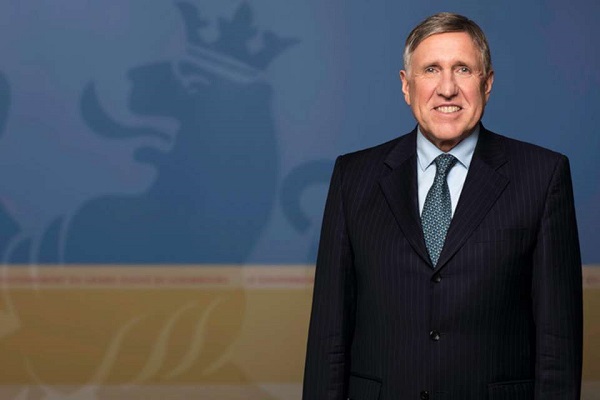 François Bausch, Luxembourg's Minister for Mobility and Public Works; Credit: SIP
In an open letter to the European Commissioner for Transport, Luxembourg's Deputy Prime Minister and Minister for Mobility and Public Works, François Bausch, has called for massive investment in the expansion of the European rail network.
Minister François Bausch began by referring to the letter, published today, as a "direct[...] plea to boost investment in the European rail infrastructure". Whilst recognising the importance of modern railways, he highlighted "two major obstacles" in Europe, especially regarding international connections: a lack of coherence and coordination and "a chronic investment deficit in infrastructure".
On the first issue, Luxembourg's Mobility Minister explained that "[t]his originates in particular in the lack of priority given to cross-border sections". He added: "The joint ministers' declaration of beginning of June aims precisely at suggesting concrete solutions to remedy the first problem by initiating better coordination in order to improve international rail services in Europe".
On the second obstacle, Minister François Bausch stated: "The end of the current crisis could serve as a springboard for making greater leaps. The economic crisis triggered by the COVID-19 pandemic has prompted the EU and its Member States to initiate a number of rescue plans. As a result, additional funding is available". He continued: "The way out of the crisis created by COVID-19 offers to us an exceptional opportunity and we must see this as a chance to accelerate a deep transformation of mobility in Europe. We must seize this opportunity". The minister added that both the recent health and climate crises have illustrated that "things cannot continue as before".
In this regard, Minister François Bausch maintained: "We shall not be satisfied with spending the funds now available in order to simply revive the old transport sectors, but must rather help improve energetically European mobility for all. Public investments must have a transformative effect". He added: "The ultimate goal must be smart multimodal mobility, which enables us to drastically reduce the carbon footprint, improve travel safety and make transport environmentally and socially sustainable. Public transport has to be the backbone of the multimodal offer".
Luxembourg's Mobility Minister went on to highlight the importance of promoting "the key role of railways in international passenger transport within the [European] Union", adding that this should "offer a real alternative to short-haul flights within the EU". To achieve this and reach current climate goals, "it is inevitable to aim for a reduction in domestic and intra-EU flights for which there is a rail alternative". Despite recognising the "acceptable" rail offer at present, Minister François Bausch maintained that rapid revitalisation was essential and this through "substantial investments in infrastructure and rolling stock without forgetting the key element of interoperability". The Mobility Minister stressed that intra-European mobility requires a "real rebirth".
Minister François Bausch also recalled that confinement and a reduced public transport offer in recent months allowed a lot of people to take advantage of cycling. In this context, the Mobility Minister was "disappointed" with a lack of progress on the project for a European cycling strategy. He stated: "By failing to include active mobility in mobility concepts, we lose the real potential that it could contribute quickly and at low costs to climate, transport or public health policies. I plead therefore for a complete and imminent transposition of the European bicycle strategy".
Minister François Bausch concluded that "[t]he upcoming revision of the TEN-T [Trans-European Transport Network] regulation should take full account of these considerations in order to facilitate the faster implementation of sustainable and responsible multimodal mobility".