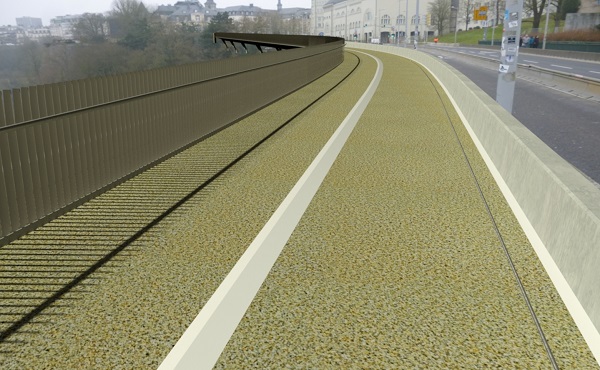 Credit: MMTP
Sunday marked the reopening of the "Al Bréck" footbridge, also known as the "Viaduc", linking Avenue de la Gare with the Cité Judiciaire in Luxembourg City, following over a year of works.
On Sunday 3 November 2019, Luxembourg's Deputy Prime Minister and Minister for Mobility and Public Works, François Bausch, oversaw the reopening of the Al Bréck after enlargement as well as the presentation of the development of a new cycle path and the bridge's safety devices.
Indeed, works related to the introduction of the tram on Avenue de la Liberté have meant that the City of Luxembourg's buses now have to change their route and pass through Avenue de la Gare. In order to guarantee the necessary space for all road users, including bicycles, the footbridge has thus been widened by 2.4 metres.
Work on the new bus lane began on 1 October 2018 and was completed on schedule on 3 November 2019. In order to respect the timing, work continued during the 2019 summer holidays, as well as most Saturdays throughout the year and sometimes during the night.
The widened footpath will be ready early next year with completion scheduled for the end of 2020.
These works are being carried out by the National Roads Administration on behalf of the City of Luxembourg with a total budget of €9.1 million (including works and studies).