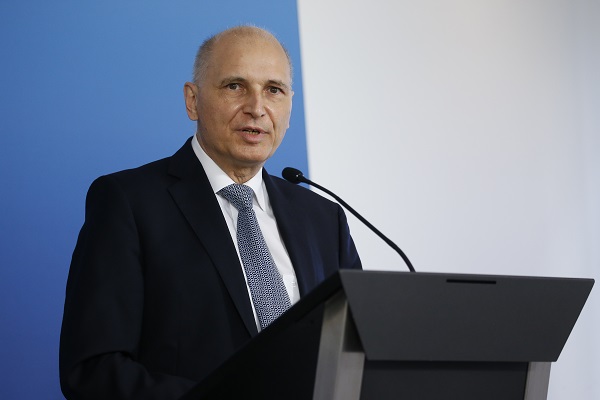 Dr. Romain Nati, Director of CHL; Credit: SIP / Julien Warnand
On Thursday morning, Luxembourg's Minister of Health, Paulette Lenert, held a press briefing with medical experts on the topic of testing and treating COVID-19 (coronavirus) in the Grand Duchy.
The Health Minister was joined on this occasion by Christian Oberlé, Director of the National Health Fund (Caisse Nationale de Santé, CNS), Dr. Pierre Hertz, Coordinator of the advanced care centres (Centres de soins avancés), and Dr. Romain Nati, Director of the Centre hospitalier de Luxembourg (CHL), who was accompanied by Dr. Thérèse Staub, chief medical officer of the CHL's infectious diseases service. Also present were General Practitioner (GP) Dr. Stephanie Obertin and dentist Dr. Carlo Ahlborn.
Following a brief introduction by Paulette Lenert, Dr. Romain Nati presented the "Discovery Project", an international study in which Luxembourg is participating alongside Belgium, the Netherlands, France, the UK and Spain. The main goal of this project is to test existing medication to determine if these could be used to treat coronavirus patients. Some 1,000 patients are expected to take part. Concerning specific medication, the study will test four medical drugs including chloroquine and one that has been used to treat Ebola.
Christian Oberlé was the next expert to take the floor. The CNS Director presented the new centralised platform for teleconsultations in Luxembourg: eConsult. Launched this morning, the platform enables patients to consult with doctors, dentists and midwives via video chat, among other formats. He later added that this is the most secure platform specifically designed for teleconsultations. Pharmacies will automatically receive prescriptions following the consultation.
Regarding tariffs and reimbursements, these will remain the same as for traditional consultations. The platform is accessible via the websites of the CNS, E-Santé (see: econsult.esante.lu), Luxembourg's hospitals and the COVID-19 website.
For his part, Dr. Pierre Hertz presented the three new advanced care medical centres, which have been set up at Luxexpo in Luxembourg-Kirchberg (opened on Monday), at Rockhal in Esch-sur-Alzette (on Tuesday) and at Däichhal in Ettelbruck (on Wednesday). A fourth centre is set to open on Friday in Grevenmacher. Dr. Hertz clarified that most of the 75 staff currently working in these centres are volunteers who registered on the new GovJobs platform. He also confirmed that a total of 354 patients had visited these centres as of Thursday morning.
Dr. Carlo Ahlborn then presented an update on the situation regarding dentists. Three dental practices remain open seven days a week for emergencies. These are located in the north, centre and south of the country respectively. Dentists work according to a rotational system and move between the three centres. New centres could open depending on demand, although Dr. Ahlborn maintained that the three were sufficient at present.