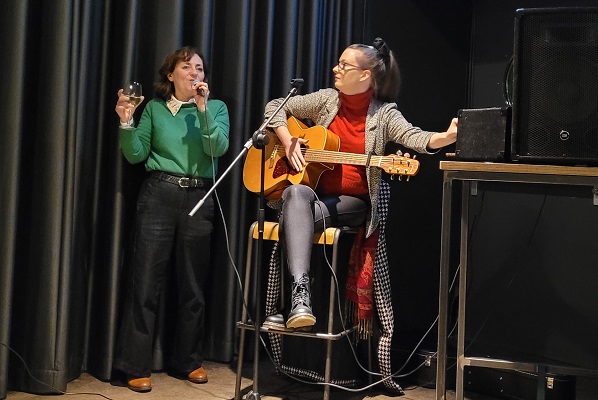 L-R: Lisa McLean, ARA City Radio Managing Director; Niamh Hickey, musician; Credit: Jazmin Campbell / Chronicle.lu
Luxembourg community radio station Radio ARA celebrated its 30th anniversary with a lively event at Buvette at Rotondes in Luxembourg-Bonnevoie on Tuesday evening.
Radio ARA's staff, volunteers and friends came together to mark this milestone with live music by Niamh Hickey, finger food and drinks. Upon entry, guests received a piece of paper with the name of a song and artist on it; if their song was played, they won a free drink. There was also a memory wall featuring photographs of Radio ARA team members taken 30 years ago.
In her speech, Lisa McLean, Manager at ARA City Radio, thanked everyone who has been a part of Radio ARA's success story over the past 30 years, regardless of the length of their involvement. She recognised that the past couple of years had been challenging for the radio station, as it had been for other community radios, but felt that it had come out stronger on the other side.
Active since 1992, Radio ARA is Luxembourg's oldest community radio and has been identified as an alternative in the country's media landscape throughout its history. Today, more than 170 people from various backgrounds are involved in ARA's radio production, from journalists and volunteers to social workers, artists, educators and students. Its programmes include the English-language ARA City Radio, the cultural programmes of Mond Op asbl, the Graffiti youth programme and various other community shows in a multitude of languages.