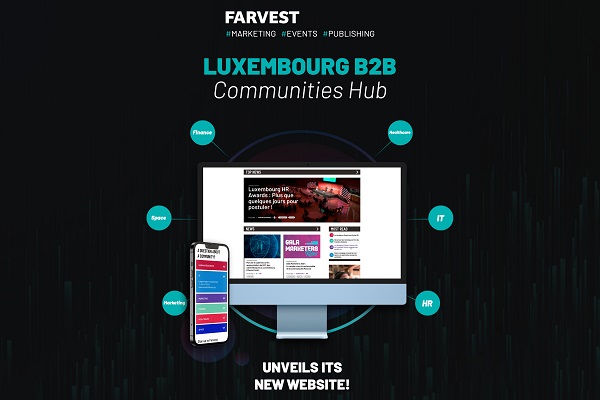 Farvest, a Luxembourg-based B2B events organiser and marketing and communication agency, has unveiled its new website:
farvest.com
.
Farvest was created in 2000 by Fabien Amoretti on a community marketing model. For 22 years now, the company has aimed to animate, inform and list different communities of professionals in Luxembourg - especially in the human resources, finance, marketing and IT sectors.
Through its various media, dedicated events and awards' ceremonies, Farvest has become a key player in the Luxembourg marketplace and a business enabler highlighting the country's best practices, addressing the biggest challenges in the world of work and fostering cross-sector synergies. The ICT Spring event is a good example: every year since 2010, this international tech conference enables all these communities of professionals to meet and share their experiences and expertise on the national and international scene, notably owing to the multiple delegations gathering in Luxembourg on this occasion.
Farvest has now redesigned its communities' web portals. "The redesign of our communities' web portals means much more than a new website to us. It reflects the needs of society today and the desire to break the silo effect. Companies are facing unprecedented challenges. COVID-19 has been a wake-up call and has stimulated the digital transition", explained Charlotte Boutelier and Margaux Vetzel, Managing Directors at Farvest. "This new website brings together all of our media, which makes information flow easily and smoothly among our different communities. [...] The website has six categories, meaning that professionals from a dedicated sector can stay up to date while using tags to browse through cross-sector news. On top of the long-standing communities, we added the Healthcare and Space categories, as we have been covering both sectors since 2014 and 2016 respectively. For our clients and partners, this new website is also the guarantee for a better media coverage by gathering all our traffic on a single website".
itone.lu, hrone.lu, marketers.lu and infinance.lu have now been grouped together on one single website: farvest.com. The social networks of these communities will be renamed as follows: Farvest IT for IT One, Farvest HR for HR One, Farvest Marketing for Marketers and Farvest Finance for InFinance.
According to Farvest, the new website is more ergonomic and user-friendly in the reading of articles and the navigation between the different menus. It reflects the image of the company and its ambitions. "This new website is a turning point and will contribute to making a distinction between our content activity and the agency's projects", added Margaux Vetzel.