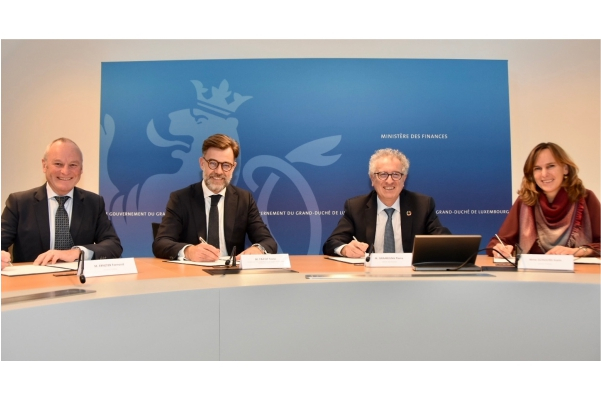 (L-R) Fernand Ernster, Co-President, House of Training; Franz Fayot, Minister of Cooperation and Humanitarian Action; Pierre Gramegna, Minister of Finance; Karin Scholtes, Co-President, House of Training; Credit: MFIN
On Friday 17 December 2021, the House of Training in Luxembourg signed an agreement with the Ministry of Finance and the Ministry of the Economy for the establishment of the Financial Technology Transfer Agency (ATTF, Agence de transfert de technologie financière) training in partner countries.
About forty countries will benefit from this training in the financial sector; for 21 of them, a specific annual programme has been established, among which is Cape Verde, Rwanda, Vietnam and Ukraine.
Since 1999, more than 40,000 professionals have participated in nearly 2,500 ATTF training programmes, delivered by local experts, and funded in whole or in part by the Luxembourg government.
The new agreement will enter into force on 1 January 2022 and will end on 1 December 2024.
Karin Scholtes, Co-President of the House of Training said "The House of Training and its ATTF service provide partner countries with more than 200 courses developed in collaboration with professional associations and the most recognised experts in Luxembourg, in order to guarantee their quality and relevance. I thank the government for the excellent collaboration, in which our common objectives of sharing our expertise and helping professionals to grow are brought forward."
The ATTF was created in October 1999 at the initiative of the Luxembourg government. Its primary mission is to promote the inclusion and development of emerging or developing countries by sharing the expertise of the financial sector, promotion of the Luxembourg financial centre and to create strong links between professionals at an international level.
The Minister of Finance, Pierre Gramegna, commented "Luxembourg is a globally recognised financial centre and the second largest in the world for investment funds. The ATTF plays a key role in sharing this expertise with partner countries and contributes to the development of financial markets in partner countries. Luxembourg can make a decisive difference in strengthening financial education in developing countries and thus contribute to their economic prosperity."
The Minister of Cooperation and Humanitarian Action, Franz Fayot, added "Whether online, in Luxembourg or abroad, sharing Luxembourg's financial expertise is a very relevant cooperation tool with our partner countries. ATTF's training programmes are making an impact in these partner countries, especially in response to today's challenges including financial regulation, digitisation and climate change."