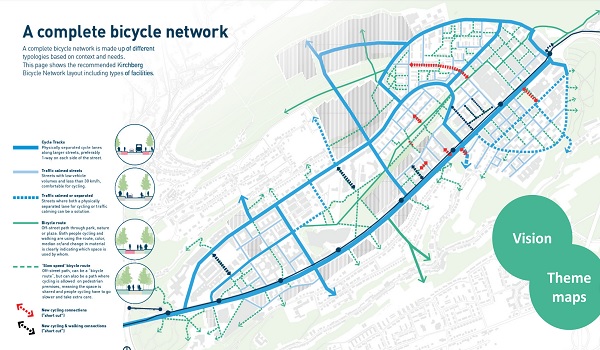 Vision for a "complete bicycle network" in Kirchberg; Credit: Gehl Architects; MMTP
On Thursday 10 October 2019, François Bausch, Minister of Mobility and Public Works, together with Andreas Røhl and Solvejg Reigstad from the Copenhagen-based architectural firm Gehl and representatives from the Fonds Kirchberg , presented the envisioned new face of the Luxembourg-Kirchberg district.
With the aim of developing urban planning on a human scale, the Fonds Kirchberg had appealed to the Gehl firm in Copenhagen to develop the principles to be adopted to revitalise public spaces and make room for more pedestrian- and cyclist-friendly streets.
During their presentation, Gehl associates Andreas Røhl and Solvejg Reigstad highlighted the key elements of this new vision for the Kirchberg Plateau: to make it more attractive to investors and residents; to make it more accessible and sustainable through attractive alternatives to travelling by car; to benefit more from existing amenities and planned investments, such as the tram; to attract people to stay longer; to develop strong local identities linked to the standard and hierarchy of public spaces.
To achieve this, the architects have devised a "Public Space Network Plan" centred around four main themes: amenities and identity; users and city life; space and buildings; flows of people. These areas involve growing and supporting existing qualities in public spaces, supporting local life and users to create an attractive, "living" city for all, improving scale, function and usability of public spaces and their interaction with buildings, and improving the balance of transport modes with the aim of greater sustainability.
The plan is estimated to cost around €500,000, although there is no set time frame nor is it certain which elements of the plan will actually be implemented. Minister Bausch did mention, however, that talks were underway involving certain changes by 2035.